Peter's mother-in-law is recorded as being healed by Jesus himself.
Little is known about the life of the apostles before they met Jesus, but one thing is certain: Peter had a mother-in-law.
Matthew recounts an interesting episode in his Gospel where Jesus visits Peter's house and finds Peter's mother-in-law lying sick in bed.
And when Jesus entered Peter's house, he saw his mother-in-law lying sick with a fever; he touched her hand, and the fever left her, and she rose and served him. (Matthew 8:14-15)
This implies, of course, that Peter was married. However, one of the glaring omissions from this passage is the presence of Peter's wife. Instead of Peter's wife serving them, it was his mother-in-law, making it appear that she was the only woman in the household.
Where was Peter's wife, then? Was Peter's wife alive when he encountered Jesus?
Early traditions answering this question diverge in various ways. Some early Church fathers say yes, she was alive and even accompanied him on his journeys to Rome. There is even a tradition that says she was martyred with Peter.
However, little archeological evidence points to a possible existence of Peter's wife in Rome.
Other traditions affirm that Peter's wife died before Peter met Jesus, which is consistent with her absence in the Gospel narratives.
Most scripture scholars say that it was likely Peter was a widower when he met Jesus, leaving him without any obligations that would prevent him from being the first pope of the Catholic Church.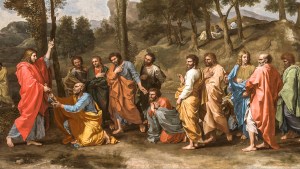 Read more:
Whatever happened to the Twelve Apostles?
Read more:
Are these the true faces of Saint Peter and Saint Paul?