There are so many choices. Do women know that?
Need an idea for Lenten almsgiving?
Help us spread faith on the internet. Would you consider donating just $10, so we can continue creating free, uplifting content?
Make a Lenten donation here
Twenty-two years ago, I was living overseas and met a young woman in an unplanned pregnancy. She planned to abort her baby, and her primary reason was financial.
Being from New York, I remembered Cardinal O'Connor's pledge to help any pregnant woman, any time, anywhere, so that she could either raise her baby or find an adoptive family. No pregnant woman needs to feel so desperate as to abort their child, he'd said.
I called his office and shared Kimberly's situation. She wasn't a parishioner, she wasn't a Catholic, she wasn't a New Yorker, she wasn't even an American. Actually, no one even asked if she was. The promise was kept. Her situation was met with love, compassion, and practical assistance. Her rent and electricity were covered. Knowing her financial crisis was now managed, Kimberly accepted an ultrasound, maternity clothing, and the consideration of adoption, and ultimately kept her baby boy.
I thought about that now 22-year-old young man when I was listening to Cardinal Dolan reiterate the Archdiocese of New York's pledge to help any woman, anywhere, in an unplanned pregnancy.
I renew and make my own this unwavering commitment of my predecessors: Any pregnant woman can come to this Archdiocese of New York, to its parishes and facilities, and we will do all in our power to assist you, to welcome you, so that you never have to feel that you have no alternative except an abortion," the cardinal said at a February 18 press conference.
This commitment was first made by Cardinal Terence Cooke, and then confirmed by Cardinal John O'Connor in his landmark 1984 address, "Human Rights, Human Lives."
I can assure every woman facing an unplanned pregnancy that the Archdiocese of New York will give you free, confidential help of highest quality … It makes no difference if you are Jewish, Protestant, Catholic, Orthodox, Muslim, of any other religion or no religion at all," Cardinal O'Connor said then. "The Archdiocese of New York is prepared to do everything in its power to help you and your unborn baby, to make absolutely certain that you need never feel that you must have an abortion."
Cardinal Dolan's beautiful pledge comes less than a month after the hideous so-called Reproductive Health Act (RHA) was passed by the state Legislature and signed into law by Governor Cuomo on January 22, the 46th anniversary of the Supreme Court's Roe v. Wade decision that legalized abortion across the United States.
The new New York law eliminated restrictions on late-term abortions, enables non-doctors to perform abortions, and removes protections against unwanted or coerced abortions.
In the "almost pro-abortion atmosphere" that now exists in New York state, the cardinal said, "we're afraid that some women are getting the impression that there is no help out there, and that abortion is the only choice she has."
Advocates joining Cardinal Dolan want to change that false impression.
They included Mother Agnes Mary Donovan, superior general of the Sisters of Life; Msgr. Kevin Sullivan, executive director of archdiocesan Catholic Charities; Dr. Anne Nolte, M.D., co-founder of the Gianna Center for Women's Health and Fertility in Manhattan and chairwoman of the archdiocese's pro-life commission; Christopher Bell, executive director of Good Counsel, which has four homes in the archdiocese for single pregnant women and their children; and representatives of ArchCare and Catholic Guardian Services.
Mother Agnes said the Sisters of Life and their committed volunteers "stand in radical solidarity" with women during unexpected or difficult pregnancies and together they "find a pathway through fear." The Sisters of Life have served more than 9,000 pregnant women since their founding by Cardinal O'Connor in 1991, Mother Agnes said.
Speaking directly to women who are pregnant and in difficult circumstances, Mother Agnes said, "Know that you are not alone. We believe in you. This pregnancy does not mean that your life and your dreams are over."
She encouraged pregnant women in need to call the Sisters of Life at 877-777-1277 or visit their website at visitationcenterus.org.
Brhane, a woman whom the Sisters of Life assisted, was present along with her young daughter Sena, whose vitality and joy captivated everyone in the room. The Sisters of Life "helped me to find a home for me and my baby," Brhane said. "They were with me the whole way and are still with me. They helped me with my immigration, to find a job, to find babysitting, they helped me with everything."
"God is big," Brhane said. "I love my daughter. She changed my life. I am so happy. Thank you, God."
Christopher Bell, speaking to Catholic New York afterward, said the press conference was important because what can appear like an old story is actually a new reality for any young woman who finds herself pregnant and alone. In many cases, she is without the support of the father of her unborn child, her family, or even a single friend, he said.
Bell said it's "heartbreaking" to look into the eyes of a young woman who has nowhere else to turn. Speaking about the response Good Counsel tries to give pregnant women, Bell said, "I hope it's com-passion, which literally means to suffer with someone … You want to be there for her, to listen and to offer a place to stay, and food, and some guidance—what you and I expect from our own family and friends."
Information: www.goodcounselhomes.org or (201) 795-0637.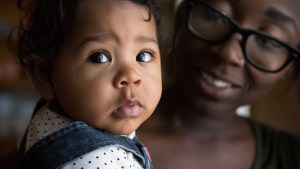 Read more:
Exclusive photos: What no one wants you to know about the pro-life movement