If you let them do this one thing first, you might be surprised by the results.
At the beginning of the school year, I set a routine for my kids when they came home from school. They were to get a snack, then immediately sit down at the kitchen table to complete their homework before playing outside.
I imagined this would be a relatively painless task that would leave the rest of the evening free. Practically, it became a time of weeping, wailing, and gnashing of teeth — a time that grew longer and longer the later into the school year we got.
Over Christmas, I started listening to an audio book about the effect of exercise on the brain, and particularly the brains of children. It reminded me of the way Finnish schools structure their school days around play — a structure that American schools are beginning to tentatively implement:
Eagle Mountain Elementary is a public schools in the Fort Worth area trying out LiiNK, a new program that boosts the amount of recess for the youngest students. The goal: to help children focus and learn better once they're back in class. "You start putting 15 minutes of what I call reboot into these kids every so often and … it gives the platform for them to be able to function at their best level," said Debbie Rhea, a kinesiology professor at Texas Christian University who created the project … The key is "unstructured play," which Rhea described as kids being allowed to run, play and make up their own games while teachers mostly stay on the sidelines to make sure everyone is safe. The breaks should take place outdoors because fresh air, natural light and vivid colors all have a big impact on the brain and its function, she added.
When school started up again after Christmas, I decided to change the way I approached homework. Instead of immediately pressing the kids to complete it, I started letting them play outside for half an hour when they got home. They have snacks outside and ride their bikes or play hopscotch, visibly letting off steam and unwinding from the stress of the school day.
Sometimes they come inside on their own, sometimes I have to call them in, but either way, they are significantly more compliant when I tell them to start their homework. They might complain or roll their eyes, but we no longer have pitched battles about the relative injustice of homework. And they complete their work much more quickly than before, often finishing it up about the same time that they finished their homework before Christmas — which proves that starting their homework before playing really wasn't the best strategy.
I'm lucky to have my kids at schools that understand the value of unstructured play, offering my kids several recesses a day to play 4-square or GaGa Ball with their friends. All 4 of my school-aged kids have had marked academic improvement this year, and I'm 100 percent convinced that getting more than double the time to play outside than they had last year is the reason why.
So mamas, don't worry if your kids want to play outside before they do their homework! Just let them. Kids need to play — and I promise, the homework will be half as painful if you let them.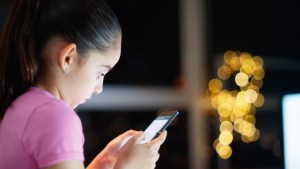 Read more:
Why your middle-schooler doesn't need Instagram yet