There was something satisfying in knowing that I was struggling and fighting to cover my Church in prayer.
Last fall, I made plans to spend a few months in Europe preaching the Gospel. I decided I'd come back to the States at the end of February. The next morning, the Vatican announced the dates for the summit on abuse: the end of February.
Somehow it was abundantly clear to me that I needed to be there. Not of course that I'd be invited to the meeting or even that I'd be able to chat with any of the bishops about what they would be discussing. I debated holding up a sign begging them to do whatever it takes to purify the Church and protect the innocent, but a seeming act of protest didn't feel right either.
I asked every priest I talked to what they would do in my position. I polled my friends and followers on social media. I prayed and thought and wondered, but I got nothing. Lots of great ideas, but nothing that seemed right.
So, with no plan in mind, I went to Rome. Maybe I'd run into some bishops. Maybe God was doing something else entirely.
There was one suggestion, though, that I couldn't get out of my mind. A Jericho walk, praying the Rosary around the perimeter of the Vatican as Joshua and the Israelites had done around Jericho. Not, of course, praying that the Vatican walls would come tumbling down, but praying for God's power to reign supreme in the hearts of our bishops, praying that any culture of sin and silence would be destroyed while the joy of the Gospel sets us free.
It's a lovely idea. But this isn't how I pray.
I'm not exactly an active person. So when it comes to prayer, I'm not much of one for the physical. I don't spend a lot of time kneeling or standing cruciform. I don't pray well while hiking and the last thing I want is to walk the Camino de Santiago.
Now Vatican City isn't, of course, a large country. As it turns out, you can walk around the whole thing in a Rosary and a half. But it's not a stroll on level ground. It's a hike to the top, on cobblestones, in the only shoes I brought to Europe, which happen to be wedges. This is not my idea of good prayer time.
Still, what else can I do? How can I declare myself outraged at the sins of the clergy if I'm not willing to do anything about it? And while I'm generally more inclined to interject than to intercede, I wasn't given a platform this time around. I was given a rosary and I was given a set of legs just good enough to carry me around the Vatican.
So that's what I did. Every day I was in Rome, pausing to catch my breath more often than I'd like to admit. And I didn't like it. I didn't have any epiphanies. I didn't suddenly start enjoying this physical approach to prayer. I didn't find myself less asthmatic than usual.  
But I did something.
I've been saying plenty on the topic of the crisis in the Church, online and in real life. Speaking out is so important. But prayer is also real work, especially the kind of prayer that requires sacrifice. And while I didn't enjoy my Jericho walks, there was something satisfying in knowing that I was struggling and fighting to cover my Church in prayer.
It's so important to find styles of prayer that work for you, times when you're well rested and ready to focus, spaces that help you to lift your heart and mind to God. But sometimes it's also good to pray in ways you don't enjoy, ways that don't feel fruitful, that even make you frustrated and uncomfortable.
You may find yourself stretched and strengthened to the point where what was once uncomfortable becomes beloved. Or you may breathe a sigh of relief when you come to the end, glad to be done but also content at having done a hard thing for God.
Last week in Rome, I needed to do something. Not just talk or think or meditate, do. When an intention is particularly enormous, there's a great satisfaction that comes of having done something hard, having joined Christ in his climb up Calvary, if only for a moment. An extra Rosary wouldn't have cost me much, so I expect it wouldn't have merited much either, nor left me with much satisfaction. But when I began that climb to the top of the Vatican Hill, I stood beside St. Michael and his brethren as not just an intercessor but a prayer warrior.
If there's something in your life that needs big, hard, sacrificial prayer, consider what you might take on for Lent to offer for that particular intention—silence in adoration, a particularly difficult fast, a 3 a.m. Divine Mercy Chaplet. Hard prayer doesn't make God give us what we want, but it allows us to enter into his suffering in a new way and, if nothing else, gives us the much-needed satisfaction of having done something.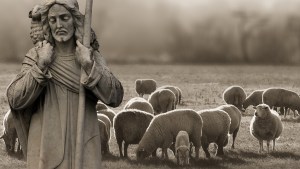 Read more:
Offer your day for priests with this prayer