He doesn't want others to suffer hunger as he did in his youth.
Chef Roberto Mendoza spent a very difficult childhood in El Salvador. Now, he lives in Charlotte, North Carolina, and has cooked for kings and U.S. presidents. However, he has never forgotten his origins. Recently, he won the lottery and is planning to use his winnings to feed the hungry in the town of Bayaguana in the Dominican Republic.
His winning the lottery was totally unexpected. Mendoza was paying for gas for his car when on an impulse he bought a scratch-off lottery ticket. He scratched it, and discovered that he had won nothing less than $250,000!
After jubilantly hitting his friend who was next to him, Mendoza said the first thing that came into his mind, according to a report on CNN, was a thought for those in need: "This is not my money." He had already been feeding poor children in Charlotte for 5 years, and now he was going to continue doing it in Bayaguana.
He had heard of the needs of that town in the Dominican Republic from a volunteer at an event in 2012 when he'd roasted 600 turkeys for Charlotte's homeless. In 2013, he purchased some land there after getting a tax refund of $10,000. He wanted to set up a cafeteria and build a church as part of his dream to help the poor people in that area. Now, with the money he'd won by a stroke of luck, he could bring this dream to fulfillment.
His childhood prayer was heard
Roberto Mendoza was born in El Salvador, in the midst of that country's tragic civil war. It's estimated that, between 1980 and 1992, approximately 75,000 people died or disappeared. For those who survived, hunger was an unwanted daily guest.
Mendoza told CNN, "When I was 14 or 15 years old, I went to bed without eating. I said 'God, When I grow up, I do not want to feel hunger.'"
During the civil war, young Mendoza was kidnapped, but he managed to escape the country thanks to the Salvation Army, which helped him get to to Canada. From there, he went to California, where he studied culinary arts. After starting his career working in hotels and restaurants, he opened his own restaurant in Charlotte called Chef Heaven's Kitchen, and became a success. He has cooked for a prince of Saudi Arabia, for Presidents Bill Clinton, George W. Bush, and Barack Obama, for Condoleezza Rice, and even for the Academy Awards ceremony.
But Roberto Mendoza has never forget forgotten his origins or his childhood poverty. "When you are hungry, there is no language, just your stomach growling," he told CNN. He's never forgotten to use his resources to help destitute people who need a good meal. He cooks for the homeless in Charlotte every week.
God made me a chef
According to Mendoza, "God made me a chef because I suffered too much hunger in El Salvador." Both his profession and his faith inspire him to help others, both in Charlotte and in other places in the world.
For example, on Thanksgiving Day he cooks for more than 6,000 people and usually participates in volunteer activities that provide food and attention for homeless people. In addition to the cafeteria in Bayaguana, Mendoza helps children in Bolivia, Nicaragua, Honduras, and Haiti. "What is in my heart, is cooking for the homeless," he told the Today Show.
However, his heart is especially set on Bayaguana. The cafeteria will be used as a safe and clean place so that those who are most in need and who do not have a home, especially children, can have a place to eat. Although the lottery money will get him most of the way to his goal (despite having to pay 30 percent of it in taxes), he will need to raise more money to finish the job. And he says, "God and myself, we will do it together."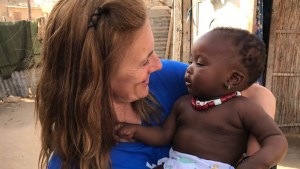 Read more:
She won a million dollars — and Mother Teresa helped her spend it
Read more:
A missionary who seeks to feed the hungry without damaging the Amazon