The Church cares about your health and wants you to prioritize it.
What can God do in your life with one Bible verse a day?
Subscribe to Aleteia's new service and bring Scripture into your morning:
Just one verse each day.
Click to bring God's word to your inbox
Ash Wednesday is March 6 this year, and Catholics everywhere are turning to Google, trying to remember the rules. Don't worry; it's less complicated than it sounds.
The Church asks everyone over the age of 18 to abstain from meat on Ash Wednesday and the Fridays in Lent, and those between the ages of 18 and 59 to observe a fast on Ash Wednesday and Good Friday. Here, the USCCB explains how to fast, and what counts as meat.
What if you're pregnant or breastfeeding, though?
The Church is absolutely clear on this one: Pregnant and breastfeeding women are excused from both the fast and the abstinence.
Fasting during pregnancy is always a bad idea. Even intermittent fasting, when you miss a meal or two, is discouraged by doctors for the same reasons that pregnant women are never encouraged to be on a strict diet: we don't know whether it's safe, and it's never necessary.
Dr Luiza Petre, cardiologist and nutrition and weight-loss specialist says, "Most medical providers feel research is very inconclusive on fasting during pregnancy and should be avoided … There is no health stamp that can be assigned to any diet during pregnancy because most diets are unethical to perform on pregnant women [for study purposes]."  
While fasting for a day while you're breastfeeding shouldn't affect your milk supply, it's possible that it affects the nutritional value of the breastmilk. A study of mothers fasting during the month of Ramadan found that "although infant growth and macronutrient content of breastmilk was not affected, levels of several nutrients in breastmilk (zinc, magnesium and potassium) decreased and the nutritional status of the breastfeeding mothers was affected."
What about postpartum women?
If you've just had a baby but you're not breastfeeding, the rules are less clear cut, but still fairly straightforward. The USCCB says that in addition to pregnant and breastfeeding women, those also excused from fasting and abstinence are "the physically or mentally ill including individuals suffering from chronic illnesses such as diabetes. … In all cases, common sense should prevail, and ill persons should not further jeopardize their health by fasting."
Does being postpartum count as an illness? Only the mother can make that call for herself. Every woman's body is affected differently by childbirth, and there is no universal standard for when the postpartum period is said to be over. Depending on whether you had a cesarean, whether you sustained tearing or other birth injuries, whether you're in the middle of postpartum depression, or hundreds of other variables, means that you're the only one who can say whether you consider yourself back to full health in your postpartum weeks and months.  
More Catholic than the pope?
If you're scrupulous, unsure, or just plain tough, there's an old saying that's worth keeping in mind: You don't have to be more Catholic than the pope. There will always be people who think they can — or should — do more than the rules ask of us. That's your choice, of course, and if you feel called to do more, it's worth bringing it up with a spiritual director or trusted priest. But don't assume that just because you think you can manage to fast, that you should do it.
The rules don't say: "You don't have to fast if you're pregnant, but if you were a really good Catholic, you'd totally do it anyway." They just say, "You're excused." The Church cares about your health, and gives us these exemptions for a reason. There's nothing soft or selfish about listening to Her.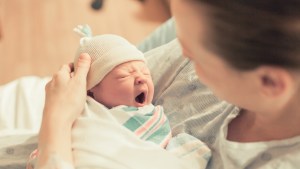 Read more:
The little decision that prepared me the most for my postpartum weeks
Read more:
A letter of encouragement to all breastfeeding mothers