Going into the desert of Lent requires strength to combat the sworn enemy of your soul.
When Jesus went into the desert, "he was in the wilderness forty days, tempted by Satan; and he was with the wild beasts; and the angels ministered to him" (Mark 1:13).
Jesus' time in the desert was spent combating the temptations of the devil, and so too our season of Lent is marked by spiritual warfare. It's not an easy season, but one where we are promised victory over our sins through the grace and power of Jesus Christ.
One way to start off Lent on the right foot is to pray this prayer from the liturgy of Ash Wednesday. Below is a translation from the traditional Latin Mass, known as the Extraordinary Form of the Roman Rite.
Grant us, O Lord, to begin our Christian warfare with holy fasts;

that as we are about to do battle with the spirits of evil
we may be defended by the aid of self-denial. Through Christ our Lord. Amen.

The Ordinary Form of the Roman Rite has a similar prayer, which can also be used to bolster your spirits at the beginning of Lent.
Grant, O Lord, that we may begin with holy fasting this campaign of Christian service,so that, as we take up battle against spiritual evils, we may be armed with weapons of self-restraint.
Through our Lord Jesus Christ, your son,
who lives and reigns with you in the unity of the holy spirit, one God, for ever and ever. Amen.
Read more:
Begin Lent with this powerful prayer to St. Michael the Archangel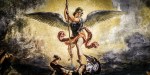 Read more:
Pray for spiritual protection during Lent with this prayer