The Cultural Revolution banned wedding photos, but a charity is now helping older couples capture their love.
For Chinese brides-to-be today, the pre-wedding photo shoot is an absolute must. It's part of a fantasy world where the couple is dressed in their designer clothes and snapped in front of their dream backdrop, which in itself can cost up to $400,000. As this phenomenon grows in popularity, it's not surprising that the industry is worth a staggering $80 billion.

This is in stark contrast to what a bride and groom would have experienced during the Cultural Revolution, between 1966 and 1976, when any sense of individualism was banned, as it was deemed to be capitalist. Newlyweds were therefore married without an elaborate wedding dress, colorful clothing, or entertainment. And forget about an expensive wedding photographer; a basic black and white snap would be the only memento of their nuptials — if they were lucky.

Fast forward 50 years, and as couples from the Cultural Revolution celebrate wedding anniversaries, a community charity group in Shanghai is offering photo shoots to these older couples. All of this has all been captured in a film called

China Love, by Australian film-maker and photographer Olivia Martin-McGuire,

 which demonstrates how the wedding photograph has become a symbol of hope for the Chinese people.

While of course the love and perseverance of these couples is what we should be celebrating, it's hard not to smile at those who finally get to have a wedding photo shoot, complete with the grooms getting pampered by volunteers to look extra special for their blushing brides. As the couples state, their family values haven't changed but their hopes for a brighter future have grown, thanks to their ever-changing society.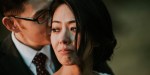 Read more:
Wedding photographer's question leaves bride in tears (PHOTO)