This group is committed to fasting and prayer, so that they and the clergy might fulfill their mission to fatherhood.
More than 400 Catholic men began the new year with a commitment to "relentlessly" working for the "re-sanctification of the Church" with acts of repentance, reparation, and renewal. Mark DeYoung, a graduate student in theology at The Catholic University of America in Washington, D.C., and a board member of Catholic Men United, talks about the power every member of the Body has in the work of being the solution for the problems in the Church.
Kathryn Jean Lopez: Why are you encouraging men to commit to reparation?
Mark DeYoung: Reparation is an act by which we as the Body of Christ atone for our sins and indicate our desire for God's mercy, while making deliberate sacrifices to restore our relationship with Christ. We as Catholic laymen are members of this Mystical Body, and through our prayer and fasting can participate in the repentance and atonement even for the sins of others within the Church. Hopefully, such acts of reparation will also play some small role in the healing process for those who have been hurt. The Catechism reminds us that "every offense committed against justice and truth entails the duty of reparation," and that "it obliges in conscience."
While Catholic Men United is primarily committed to bringing attention to the ongoing scandal of clerical abuse and any related cover-ups, we also acknowledge and seek to make reparation for our own sins as Catholic laymen (especially sins against chastity).
Lopez: Is it too late to start a year of reparation, now that we're beginning March?
DeYoung: Not at all. God is always calling us to more. Also, Catholic Men United tries to maintain a sober and realistic outlook about how quickly change can come about. Even if there are some great new reforms initiated at the worldwide meeting of bishops [on sexual abuse, which was held in February], they will need to be effectively implemented at the diocesan level. Which is to say that there will still be much to pray, fast, and make reparation for well into the future. So are we getting started late in 2019? Not at all. Our work is more akin to a marathon over many years than a short sprint into the coming months.
Lopez: Why not women?
DeYoung: Certainly we welcome women to join us in prayer and fasting for Church reform and reparation for crimes and sins of the clergy, as well as those of the whole Body of Christ.
However, Catholic Men United recognizes that there is a great void in authentic Christian masculinity lived out in the life of the Church. Therefore, part of our mission is to specifically work to activate lay men within the Church, asking them to take renewed interest in their Faith and to assume a certain amount of shared responsibility for the current crisis, as well as giving greater attention to their own call to holiness.
Inspired by St. Joseph, we ask men to begin taking strong, committed actions on behalf of Holy Mother Church in the way that Joseph protected and defended the Holy Family. Of course, much of the current crisis further speaks to a serious lack of spiritual fatherhood among both the clergy and laity. More specifically, many priests and bishops failed to protect the spiritual and moral lives of their people either through their own predation, or through silent complicity (not taking action against such sins). Also, for Catholic laymen, our spiritual laziness and lack of fatherly leadership in our homes and within our parishes likely played a contributing role in allowing some of these abuses to go on unknown and unchecked.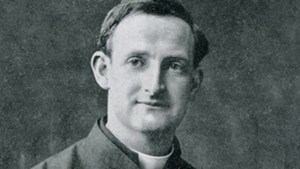 Read more:
This WWI Jesuit hero gave his life in reparation for the sins of priests
Lopez: What do you hope to accomplish?
DeYoung: We hope that our regular prayer and fasting (and related action) will play a role in prompting true contrition, meaningful reparation (for victims), and real reform for the Church in America. Ultimately, we hope that our sacrifices will be used to inspire more American bishops to speak plainly about the nature of this crisis and the truth of its root causes, and then act strongly and in unity to forge greater reform at the parish and diocesan levels. Also, we pray that the bishops will one day lead us in public repentance for these grave sins.
Lopez: Are men seriously fasting and praying since the summer for the Church and her bishops?
DeYoung: Yes. Some of these traditions (especially that of fasting) have been lost to many lay Catholics in recent times, so this has not necessarily been the experience of most practicing Catholics. However, we find that men are responding with enthusiasm to this call to action.
Considering the current state of affairs, we regularly ask the Catholic Men United community to remember a key passage from the Gospel of Mark (9:14-29). In this sobering scenario, the disciples find themselves powerless to drive out a certain evil spirit, and in that confusion, they ask the Lord why they are unable. Jesus reminds them that, "this kind cannot be driven out by anything but prayer and fasting." As many of us look back at the McCarrick scandal, the Pennsylvania Grand Jury Report, and the multiple revelations that surely stand ahead of us through new state and federal investigations, we cannot help but think thatthis is the kind of evil to which Jesus refers in this Gospel passage. The men in our community intuitively understand this, and though they also acknowledge that these sacrifices can be quite difficult, they recognize the necessity and meaningfulness of such actions.
Lopez: Has this past year changed you, in this news environment about the Church?
DeYoung: The overriding sentiment that I experienced with friends and family throughout the close of 2018 is a real sense that times have changed. Returning to a "business as usual" mindset in the Church of America seems fairly beyond us at this point (and perhaps we should be grateful for that).
So yes, I think there is a real sadness that every serious Catholic is experiencing. But in a positive and hopeful sense, we must now recommit to Christ and His Sacraments, perhaps realizing that the cultural residue of decades of American Catholicism can no longer be what binds and inspires us (despite the many good things that those institutions and that culture have produced).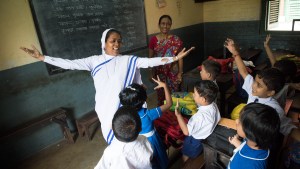 Read more:
The Church's story is service, not abuse
Lopez: Some people have written about leaving the Church because of this summer's McCarrick news – and things after that seemed to make things worse instead of better. What's your pitch to them about staying or coming back?
DeYoung: Considering the profound gravity of the current Church crisis, referring back to the Gospel can sometimes seem trite, but I think there is one particular passage in John that can keep us grounded. After Jesus gives his difficult teaching on eating His Body and drinking His Blood, many of the disciples choose to abandon Him. Jesus turns to the Twelve Apostles and challenges them. "Do you want to leave too?" Simon Peter responds, "Lord, to whom shall we go? You have the words of eternal life. We believe and know that you are the Holy One of God."
The truths of our very existence and ultimate destiny can only be found in the person of Christ, and they are further discovered through our membership in His Body, the Church. That won't ever change. We must all stay and play a unique role in helping return the Church to a new purity and innocence by responding to our own calls to personal holiness.
Lopez: What's your preeminent prayer for the Church?
DeYoung: As a community of lay men, we ultimately pray that the full truth comes completely into the light. A dangerous outcome of all of this is that the Church might respond with strong measures, but only based on a partial (or misleading) understanding of the problems, or even worse, not recognizing the true underlying causes. Have we identified the full nature and extent of the sexual abuses perpetrated by clergy against both adults and children? Do we know the extent of the problem of priests living double lives of sexual sin with other consenting adults?
And more importantly, do we know how we got here? What are the institutional and cultural causes for all of this? How did they become so ingrained and tolerated in clerical life? We pray and fast that we receive transparent answers to these crucial questions, and that our leaders can fully recognize the truth, so that the Church can begin the work of repentance, reparation and renewal.
We also pray that more bishops, as our shepherds, unhesitatingly lead us in this work, seeking renewal in their own dioceses across the country.
Read more:
Overwhelmed by evil? Here are 3 of St. Michael's weapons