Food, music, dessert ... It's a day to indulge and be merry before Lent begins.
It's Fat Tuesday!
(Also known as Pancake Day, Mardi Gras, and Shrove Tuesday.)
Whatever you call it, it's the day before the 40 days of Lenten fasting and penance begin, so it is definitely a time to celebrate.
Here are some tips on how to live the day!
What should I eat today?
Pancakes! For dinner! Or lunch! You can make it a little fancier by trying your hand at crepes with some fun toppings — berries, mini chocolate chips, marshmallows, peanut butter.
Or if breakfast foods aren't your favorite, try a Cajun dish. An easy Jambalaya recipe is as follows: Add some chopped celery, a chopped green bell pepper, some chopped onion, a large can of stewed tomatoes, two cups of stock, a couple of bay leaves, some cooked chicken pieces, some kielbasa pieces, salt, pepper, some Cajun seasoning, along with a cup of rice, to a large pot on the stove and bring it to a boil. Then simmer for 20 minutes covered. And enjoy!
Even easier, grab a bag of red rice and beans at the grocery store and eat that tonight. (Fair warning: I have never met a bag of rice and beans that doesn't take at least 15 minutes longer to cook than the bag claims it should take.)
And while pancakes or Cajun cuisine are the traditional foods to eat on Fat Tuesday, any kind of comfort food or celebratory fare will due. If you're Polish, or live in a Polish community, today's the day for the doughnut-like filled cakes called paczki. Honestly, I'll probably eat cheesecake for dinner and dessert.
And have your favorite cocktail! Or a glass of wine!  Or a beer! Pile on the extras. It's a day to feast.
What kind of music would be fun to listen to today?
Listen to your favorite party playlist! Something upbeat that makes you want to dance and sing. If you need some suggestions for some good, uplifting, and just plain fun tunes, check these artists out on Spotify, or wherever you listen to music:
Harry Belafonte (especially "When the Saints Go Marching In")
Buckwheat Zydeco (Louisiana legend if you're going with more of a Mardi Gras theme)
Josh Garrels (soulful Christian music)
Jukebox the Ghost (upbeat and danceable)
Should you eat dessert today?
This should not be a question. It's Fat Tuesday! Yes! Most definitely, yes. If you do nothing else to celebrate all day, at least treat yourself to dessert.
What other things should you do to celebrate?
On the Fat Tuesdays of my youth, my parish always hosted a party. There would be food, a live band, and lots of colorful necklaces. That was always fun, especially the culminating moment when the song, "When the Saints Go Marching In" would play, and all the kids and adults would form a huge conga line that would wrap around the church basement. Look around to see if there are any churches nearby who offer something like this. 
If a nearby parish isn't hosting a party, host one of your own. Have people bring some food and drinks while you provide music, seating, and dishes to eat on. Or, make it even easier on yourself and just have it be a dessert party. Either way, at least a couple people you know are bound to show up, even if you throw it together and invite people last minute.
Finally, if hosting a last-minute party isn't going to work out, at the very least waste a bunch of time on social media and Netflix (because I bet you're giving one of those up for Lent).
Happy Fat Tuesday, and enjoy the day!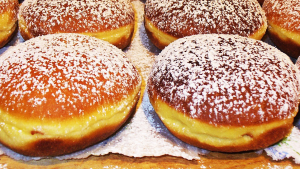 Read more:
In Michigan Fat Tuesday is Pączki Day, a celebration of Polish doughnuts
Read more:
St. John Paul II's key to a successful Lent