And how the possible location can inspire our experience of Lent.
Need an idea for Lenten almsgiving?
Help us spread faith on the internet. Would you consider donating just $10, so we can continue creating free, uplifting content?
Make a Lenten donation here
In the Gospel of Matthew, Jesus is baptized by St. John the Baptist in the Jordan river and then "Jesus was led up by the Spirit into the wilderness to be tempted by the devil" (Matthew 4:1).
Both the Gospels of Mark and Luke have a similar narrative, placing Jesus at the Jordan River immediately before his temptation in the wilderness. While Christian tradition often describes Jesus' temptation as occurring in a "desert," the Greek word used (eremos) primarily means a location that is isolated, uninhabited and unfit for pasture.
The Gospels never mention a specific place, but local tradition claims Jesus spent his days on a mountain near the Jordan River, currently called the "Mountain of Temptation." It is a mountain of sheer rock and would have been difficult to ascend. It is a place where no one lives or travels through, and would have offered Jesus a solitary place completely cut off from the world around him.
There are many caves in this mountain, and in the first few centuries after Jesus' death, Christian monks and hermits took up residence in the caves, devoting themselves to lives of solitary prayer. Eventually a monastery was built there, and over the years different monastic communities have lived on the mountain they believe was the place of Jesus' temptation.
While it's unknown if this location was the exact place where Jesus spent his days of fasting, it is certainly potentially the site, and Christians have held for centuries that this was the place where Jesus was led into the "wilderness."
The isolation of this mountain reminds us to find our own "wilderness" during Lent and spend time each day away from everyone, contemplating God and his mysterious plan. For some of us this might be an actual place in the "wilderness" around us, away from the business of modern life. For others this might simply mean going to your bedroom and turning off all of your electronics, spending time in the silence and isolation.
Wherever your "wilderness" might be, let us be inspired by Jesus' actions and take time away from the world to refresh our souls.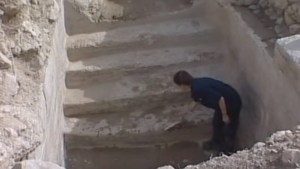 Read more:
Is this where Jesus turned water into wine?
Read more:
Is Lent Feeling Limp? Maybe You Should Go Into the Wilderness