In preface to 'Drink a little wine in moderation: Christian sobriety,' Francis says moderation enables us the simple joy of knowing God's love.
The "authentic and simple" joy of knowing oneself loved by God is protected by "moderation," Pope Francis explains in the preface to a book to be released in Italy on March 6.
On the occasion of Lent, the Vatican Publishing House is releasing this book, entitled Drink a little wine in moderation: Christian sobriety ("Prendi un po' di vino con moderazione. La sobrietà cristiana" in Italian), by Lucio Coco.
Christians cannot content themselves with chasing after "passing pleasures," says the Sovereign Pontiff in his preface. According to him, "true joy," the "fruit of the Holy Spirit" consists of "discovering oneself loved by God in an unconditional and gratuitous way."
Read more:
No food, only beer: Fasting like a 17th-century monk
This "authentic and simple" joy, continues Peter's Successor, is protected through moderation and self-denial, "the ability to submit our desire for pleasure and for personal satisfaction to right measure and to interpersonal relationships."
Joy is the "fruit of discernment in the Holy Spirit" which is the "constant art of preferring the 'we' to the I,' and people to things," the head of the Catholic Church writes. For "no one is saved alone, as an isolated individual." God draws us to Himself through and with others.
For Pope Francis, self-denial and joy are two attitudes that can "help to live Lent," this ascent to Easter, the "celebration of our resurrection with Christ." Then, following the Lord's example, the Pope says, "we can be a simple and daily gift, in the little things, for the Lord and our brothers and sisters."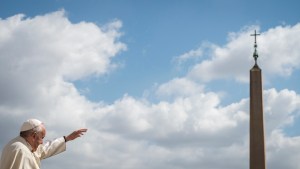 Read more:
Have you read the pope's unique twist on Lent this year? Check it out