At 92, the monarch shows the importance of being polite -- even behind a screen.
At the age of 92, the British sovereign has finally taken to Instagram to share a little bit of culture and family history. In doing so, she's also given a few lessons in Instagram manners: no cussing, pay attention to grammar, and be relevant.
In her first ever post — despite having had an account since 2013 — the queen spoke of her visit to the Science Museum, where she came across a letter addressed to her great-great-grandfather Prince Albert, the beloved husband of Queen Victoria, in 1843. The letter, kept in the royal archives, was written by Charles Babbage, whom the queen described as the "world's first computer pioneer." He tells the prince of his invention of the "analytical engine," a precursor to the first computer programs that were created by Ada Lovelace.
While the letters were in beautiful script, and steeped in history, the queen wanted to demonstrate just how far technology has come in such a short space of time. On her visit, the monarch learned about children's computer coding initiatives and wanted to take the opportunity to show her own skills in a nod to innovation, and the generations to come.
Unlike many Instagrammers, the queen took the time to sign off on her post with "Elizabeth R," which is the official royal signature she uses for signing documents — the 'R' standing for regina, meaning "queen." A simple and clear message that no matter how far technology takes us, good manners are always welcome, that we can be engaging without putting others down. And it's no surprise that "Elizabeth R" wracked up over 87,000 likes in just a few hours with many positive, encouraging, and polite replies.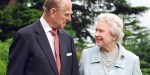 Read more:
12 Lessons from the 71-year-long marriage of Queen Elizabeth II and Prince Philip (Photos)