These sweet stories will bring a smile to your face and remind you that there's goodness in the world.
I left church on Ash Wednesday and, just like everyone else, I had freshly smeared ashes on my forehead, ready to embrace the Lenten season.
But along with three others in the congregation, there was something a bit different about my walk out of church. The four of us had small vials of ashes in our pockets along with our pyxes that contained the Holy Eucharist. We are Extraordinary Ministers of Holy Communion and, in addition to Holy Communion, we are privileged to be able to distribute ashes on Ash Wednesday.
My three friends were going to different places: one to the hospital, and the other two to nursing homes. As for me, I make individual home visits and I had five to do.
Three of the people I saw are in their mid-90s, and one is 86. Then there is the "baby" of the group, Terri.She is all of 59. This poor woman, because of a botched hernia operation last May, almost died. She has had several surgeries since, and faces another eight-hour operation in April. Through it all, when I arrive, she always has a ready smile on her face. How uplifting that is to see.
So please, come with me as I stop at the homes of a few more of these "hidden" Catholics. You might enjoy the change of venue. (I will just use their first names.)
EVELYN  My first stop is at Evelyn's. She is 94 years old and is always impeccably dressed when I arrive. Her hair is done, makeup on, and lipstick perfectly applied. Evelyn is from New Jersey, and we get along great (I'm from the Bronx). I have been seeing her weekly for three years. She always asks, "Larry, when do you think God will take me? I've lived long enough."
I always tell her she is only "upper middle-age" and God needs prayer warriors, so that is her job — and to get out her rosary and get busy working.
She smiles, reaches over to the table, and lifts her beads. "What do you think these are? I'm wearing them out."
We both laugh, I hug her, and it is off to see Marie.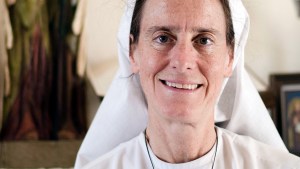 Read more:
The nun who left France to create special homes for the elderly poor in the U.S.
MARIE Marie is 95 and is "all business." She is waiting at the door for me, and it opens before I even knock. I ask her how she is, and she answers, as always, "Oh, I'm fine, thank you."
I am usually only with her for about five minutes. She smiles and tells me to have a nice week and asks me to pray for her son who is having car trouble. I tell her I will, even though he has "car trouble" every week.
"BIG JIM" Jim is an 86-year-old ex-Marine, former Greyhound dog trainer, and a baker. I arrive at his place, and after about 15 minutes, I leave with three packages of freshly baked cookies and a loaf of still-warm banana bread. Jim has been sick since Thanksgiving with an infection that got into his lungs and caused blood poisoning. I know he is better because he is baking again. Praise the Lord.
VIRGINIA  The highlight of my Ash Wednesday was my final visit. This last one just shows how little things can mean SO MUCH to someone.  
My friend Virginia rarely has any visitors. Last Sunday when I brought her the Eucharist, she told me that her birthday is March 6, and she would be turning 97. I knew she would spend the day alone. So Tuesday night, I stopped in the supermarket and got her a small red-velvet cheesecake topped with cream and a cherry.
I walked into Virginia's small apartment and she was just sitting there as she always is. I said to her, "Before we do anything I have something for you."
I took the small cake out of the container, took a candle from my pocket and put it in the cake, and lit it. Then I said, "I can't sing, Virginia, but this is for you!"
I began to sing "Happy Birthday," and the biggest smile spread over her face. This was followed by tears running down her cheeks. (Some began running down mine, too.) It turned into an unexpectedly special moment and her reaction demonstrates how sometimes the tiniest kindness can mean so much to someone, especially a lonely person in her late 90s.
Here's wishing everyone an uplifting and spiritually rewarding Lenten season.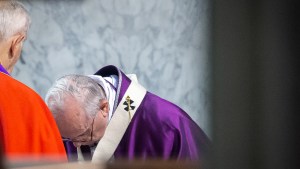 Read more:
Pope links prayer, fasting, almsgiving to three things that "do not fade away"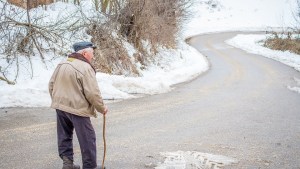 Read more:
Pope: Protecting endangered animals and then ignoring the elderly is schizophrenic