This special mission centers on one key thing, no matter how much time or attention you are able to give to your godchildren.
Some godparents play in the big leagues: they call or visit their godchildren on the anniversary of their baptism, send greeting cards punctually on birthdays and holidays, and are aware of the day and time when their godchildren lost their first tooth. We have nothing but respect for them!
For others, however, remembering the exact anniversary date is a feat; forgetting to call their godchildren on their birthday — even when they thought about it all day — is common, and sending greeting cards isn't their strong point. However, these godparents are no less invested in their great and beautiful mission. Here are some ideas to help any kind of godparent make their commitment more concrete and effective.
Talk about children to God, before talking to children about God
Godparents can pray for their godchildren, not only to entrusting them to the Lord, but also asking the Holy Spirit for help to carry out their mission, reciting this short prayer found on the Hozana website in French:
Lord, may your hand always protect this child, so that nothing and no one can hurt him. I thank you for having the chance to be his godparent. I ask you to help me fulfill my role, and to establish with this child a bond of trust and affection. I'll be there, with his parents, close to him, to pick him up every time he falls. Amen
Father de Menthière, a parish priest in Paris, told the French publication Christian Family ("Famille chrétienne"), "I believe that the first responsibility of a godfather or godmother is to pray constantly for their godchild. When you commit yourself to educating in the faith, you must begin, as St. Augustine said, by speaking of the children to God, and not by speaking of God to the children. This investment in prayer can compensate for geographical distance."
Including your godchildren in your prayers in the morning or evening, keeping them in your intentions during group prayers (such as Mass or the Rosary prayed with other people), or entrusting them to the Virgin Mary, are all opportunities to pray for them. And all of this should be done before offering them piles of books on the life of Jesus.
Focus on quality rather than punctuality
Creating a special relationship with your godchildren doesn't depend exclusively on wishing them a happy birthday or a happy baptism anniversary punctually every year. It depends much more on the quality of your interactions. Missing a date doesn't mean you aren't attentive to the life of your godchildren. Asking them about what's going on in their life, spending a moment alone with them during a family reunion or a gathering of friends, and inviting them to visit you, are all ways of building a meaningful relationship, regardless of whether or not your greeting card arrives on time. (If you can keep all the dates straight and send cards on time, so much the better, but a punctual greeting card from someone they barely know will mean less than a late phone call from someone they've come to love and respect as a trusted adult and example of faith.)
Some practical ideas
Sometimes, it just takes a good idea to motivate you to be more present in your godchildren's life. For example, you don't need to limit messages or phone calls to birthdays or baptism anniversaries. There are many other moments in children's lives when it can be meaningful for them to know that you're thinking of them: when they're at summer camp, during exam period, if they get sick or injured … The big religious holidays like Christmas, Easter or All Saints Day are also great opportunities for you to send a card or gift, while explaining what the religious significance of the holiday means to you.
Creating a close relationship also takes spending time together, so you can get to know each other, talk to each other, and appreciate each other. Some godparents organize days or even weekends, one-on-one with their godchild, without parents. Do you have several godchildren? No problem! Block a date to organize a "godchildren" day or dinner!
Bear witness to your faith
Finally, the mission of a godparent is closely linked to his or her personal mission: to lead, as much as possible, a good Christian life. In striving to live according to the Word of Christ, you'll naturally be led to bear witness to your faith before your godchildren. And this testimony of life, fully rooted in faith, doesn't require much additional work; it simply requires living your vocation as a Christian.


Read more:
Godparents of Children: Handing on the Faith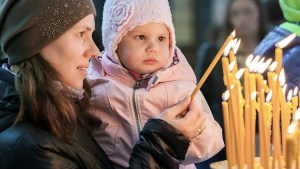 Read more:
How to be a "spiritual mother" whether you have kids or not