It's a satisfying experience to be the know-it-all, but what are the costs we aren't counting?
Yesterday, two of my children engaged in a shouting match that ended up bringing them both to recriminations and tears over the best way to build a Lego truck. Each had in mind the "right" way to get the job done and neither was prepared to give an inch. I'm sure you can predict how the sad story ends – two children who no longer wanted to play together.
When it comes to insisting on what we think is right, adults are no better. We argue over all sorts of minutiae, label each other stubborn, cannot fathom how other people could possibly be so horribly, terribly wrong, and steadfastly refuse to compromise with people who are wrong or forgive those who have been so foolhardy as to persist in their wrongness.
Being right is a very satisfying experience. One of my favorite hobbies is tossing an improbable but true fact into a conversation and watching while my friends are blown away – or so I imagine — by admiration at how right and amazing I am. It's an annoying habit, I'm sure, but it's just so fun to be right that I can't help it. The stakes are dramatically raised, though, when our need to be right begins to cause serious disagreements in our relationships. We all seem to think we know the best way and don't need to compromise, and we are often more concerned with being correct than mercifully letting a wrong slide past with no snide remarks.
There's a not-so-hidden cost to always being right: It makes us lonely. You could be the rightest person in the world, but still feel like Shakespeare does in his Sonnet 29, wailing, "I all alone beweep my outcast state." A know-it-all is a hard person to be friends with; no one wants to hang out with a person who will never compromise. A person who will never forgive a wrong without a total surrender on the part of someone else is not destined to be very popular. Studies show, for example, that the more likely we are to withhold forgiveness, the more likely we are to feel increasing loneliness as we age.
The desire to be right at all costs is a huge deterrent to being willing to offer forgiveness. Psychologists who work with clients to overcome shame, guilt, and loneliness say that engaging in the forgiveness process is vital to the healing process. Instances of deep hurt and abuse excepted, it seems that when we're being honest, most of our quarrels are over matters that are not all that significant. What this means is that, for many of us, it's time to let go of the need to prove a self-righteous point, compromise a bit, and show others some mercy.
It's time we admit that there are other qualities in life that are perhaps more important than being right. During Lent, one of the areas of focus is on penance and forgiveness. I find that, when I'm hearing confessions from parishioners, they often have a hard time with forgiveness because of a sense of having been wronged. They can't let it go and don't think other deserve forgiveness. It's also common in my experience that people become discouraged because they so desperately want to be right but in their heart know that they often choose to do wrong. Because of this, they have a hard time forgiving themselves.
When contemplating your Lenten journey, it's good to ask the question: Do I have a need to always be right?
If the answer is "Yes," it's time to realize that the cost of always being right isn't worth it. Sometimes people are wrong; they don't always need to be corrected. Sometimes people have wronged you and may not even realize it; go ahead and forgive them and don't make a big deal of it. Maybe you're discouraged because you've done wrong; allow yourself forgiveness and do better tomorrow. Giving up the privilege of always being right is worth it. It makes for a less stressful day, healthier friendships, and the joy of not having to sit in judgment of everyone else.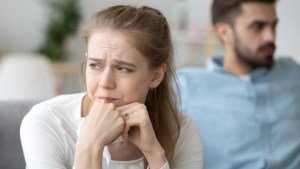 Read more:
Why it can be so hard to ask for forgiveness