Lent is a time that many of us are getting back to our faith, or approaching it for the first time. Here are some handy tips.
Lent is the time when lots of new people line up to join the Catholic faith — and lots of longtime Catholics remind themselves what it means to be a faithful Catholic.
For the new Catholics out there — and for those who want a refresher — here are some tips for being Catholic today.
1: Remember, it's all about Jesus.
Catholics know this and know it well. But the Church has such a rich tradition of saints, liturgy, symbols, stories, architecture, and art that there is a lot of opportunity to forget that fundamentally, we are Christ-followers, and everything else exists to get to know that one person, Jesus.
2: But also remember that Jesus is not alone.
That said, to properly understand Jesus, you have to learn that he is not a lone figure reaching out to you — he is reaching out to you from the middle of a cloud of witnesses: Angels and saints, poems and cathedrals, incense and vestments, the poor person on the street corner, and the questioning person in your workplace.
3: You shouldn't be alone either.
There is no such thing as a one-person family — and there is no such thing as a one-person Christian. Faith doesn't work without other faithful. Find a group of Catholics to call your own. Your parish is your first group. Your parish is like your family — which means you won't like everyone there but sticking with them, and doing more with them, will reward you. In addition, find a group you identify with — online or, preferably, in person — to be Catholic in good company.
4: Mass keeps you from starving; Confession keeps you breathing.
Going to Mass every Sunday and holy day of obligation is a must — going more often is even better. At Mass, you unite with Jesus Christ in the Eucharist. Confession is equally important. Jesus breathed on the apostles to give them the power to forgive sins. Confession keeps our souls alive and breathing. You have to go at least once a year. Many go monthly; Pope Francis goes every two weeks.
Read more:
Pope Francis: Why we should go to Mass on Sundays and not be slaves to work
5: Know Church teaching.
Learning Church teaching is a lifelong task. I still learn new information about what the Church teaches, and I have written about Church teaching for decades. Consult the Catechism regularly. Buy Scott Hahn or Brant Pitre or other theologians' books. Watch Father Michael Schmitz on YouTube or listen to a Catholic podcast.
6: What if you don't agree with a Church teaching?
That's okay. Our assent to doctrine is "Faith seeking understanding." When you have a hard time with a Church teaching, your job is to avoid leading others into doubt, and instead to seek to understand, either through reading more or seeking out a Catholic who believes it and can explain it to you. One of my favorite prayers is from the Gospel: "Lord, I believe. Help my unbelief."
7: To keep your faith, you have to publicly witness to your faith.
It is extremely easy to make your faith private and hidden, while the "real you" remains the secular you. Get in the habit of making the "Catholic you" the "real you." Start in small ways: Hang a crucifix on your wall; put a picture of Mary by your computer. Pray silently before meals in public or make the Sign of the Cross when you pass a Catholic Church (because Jesus Christ in the Eucharist is there). Then progress to larger ways like sharing something from a great homily you heard or an inspiring saint story you read. But absolutely do something.
8: Do "Catholic things" regularly.
Be the "Catholic you" in private too. Here are a few ideas:
Pray daily.

Here is

one way to do it

…

Light a candle in church.

This is a concrete symbol that your prayer is not just words that vanish in air, but burn 24/7 before heaven.

Offer things up.

When a difficulty presents itself, offer it to Jesus in union with his sufferings.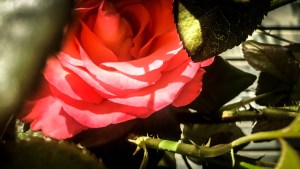 Read more:
How St. Therese gave me incredibly unexpected and delightful news about "offering it up"
Sacrifice every Friday.

Canon law says to give up meat on Friday year round. The U.S. bishops say that, outside Lent, you can substitute something equivalent. But meatless or otherwise penitential Fridays are a great way to remember who you are.

Pray during the "elevation."

When the priest raises the host during the consecration at Mass, many Catholics pray silently "My Lord and my God." When he raises the chalice they pray, "My Jesus, Mercy." These and

other small actions

help keep Mass alive.
9: Serve those in need.
But remember, your faith is not a personal quirk or a set of ritual actions or an intellectual exercise. Your faith is Jesus Christ's plan to reach the world and to serve the poor — in your neighborhood, at your office, and in your extended family. Father Michael Gaitley's You Did It To Me has great practical advice for reaching out.
10: Get to know the Mother of God.
Ever since Jesus said, "Behold your son," to his mother from the cross, indicating St. John, Mary has been our mother, too. She is a real mother, who looks out for us like she did at the Wedding Feast at Cana, who encourages us to pray like she did for the Apostles at Pentecost, and is our heavenly ideal, as she was in Revelation 12. Get to know her especially through the Rosary (here is my own introduction to the Rosary) but also through the saints.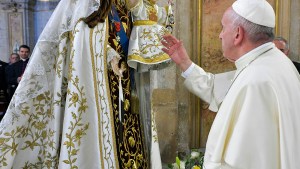 Read more:
Let God and Mary look at you and gaze upon you, says Francis