I've never been able to get off my devices until I discovered this secret.
When people ask me what I do for fun, I say "read books." I love books. Novels, mostly. I enjoy reading stories and getting engrossed in other characters and their lives. I tend to feel the most peaceful and happy while reading.
But you know what I haven't done regularly for the past few years? Read books.
And I've made a lot of excuses as to why that's the case. I've been so busy! I graduated from college, I got engaged, I planned a wedding, I worked my first out-of-college jobs, I got married, I moved, I got pregnant, I had a baby, I have a toddler. Trying to balance work and life and parenthood and all the rest of it takes a lot of effort! I just haven't had time to read.
But you know what I have had time to do in the last several years? Watch a lot of Netflix and Amazon Prime, and read and re-read a ton of blogs.
Are those bad things to do with my time? No. But are they as satisfying for me as reading a good book? No.
The fact that I've made the time to watch so much television and read so many blogs has made me re-think my assumptions that I am soooo busy. I have more time than I think.
But guess what I have to do to capture that time? Get off my phone.
I'm sure you've encountered articles and videos on how detrimental and addictive screen time is. I know I have. But even though I can see in my own life how staying on my screen for too long hurts me and my relationships, it's a hard habit to break. I have tried many times to break it off, and I just keep going back to that easy, bright, colorful slab of information and entertainment.
However, something came up this year that has helped transform my attachment to my phone. A friend asked me if I would do a reading challenge with her for the rest of the year. I'm excited about it, and now that I've been doing it for a couple months, I've realized it just doesn't leave time for my phone.
Now, I have a concrete and enjoyable reason to be off the screen. That reason is a list of 19 books I have to read by the end of the year. And my friend is holding me accountable because she is reading the same list of books. (Added bonus, it cuts down on the cost of books because we can switch back and forth if we can't find it at the library).
For context, last year, I read maybe five books the entire year. This year (and we're only two months in) I'm a third of the way through my fifth book (and two of the books were 800 pages!).
What changed? Did I have a catastrophic accident that made me incapable of doing anything other than reading? No. Instead, every time I was tempted to load a site or click on a social app, I put the phone away and grabbed my book. The more interesting the book, the less tempted I have been to pull out my phone.
So that's the trick that has actually helped me cut back on screen time. Have a concrete alternative to your screen handy that you enjoy. And set an achievable but high goal for the next 10 months. Maybe for you that isn't reading books. Maybe it's painting. Or cooking. Or playing your guitar. Maybe it means bringing your crocheting with you in case you're stuck in a doctor's office waiting room.
Whatever the case may be, set that year-long goal. Find someone who can help you stay on track because they love doing what you love, too. Then you can look back on your year and measure it not in Netflix shows watched (or worse, hours of mindless Twitter scrolling), but in creativity.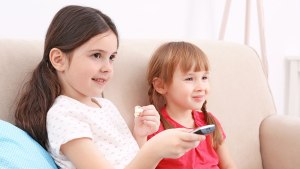 Read more:
Guide your children's screen use with the 3-6-9-12 rule