For decades, medical research on pregnancy and childbirth has stalled. Now, two female researchers seek to change that.
Here's a shocking thing that women learn in their first pregnancy: current medical science — which has advanced so far beyond basic disease prevention that gene-editing now dominates the headlines — actually has no idea how childbirth works.
Seriously. When I was pregnant with my first child in 2005, I started reading everything I could get my hands on about childbirth. Like most first-time moms, I wanted to understand and prepare for the life-altering trial my body would shortly be undergoing. And while there appears to be a comprehensive understanding of the mechanics of labor and deliver, it's actually superficial knowledge covered up with vaguely scientific terms like "neck of tissue" or "hormonal process." In some cases, there's not even an attempt at pretense — the onset of labor is often said to be triggered by a "mysterious process" that doctors and scientists throw ever-changing theories at like spaghetti against a wall, hoping one of them will stick.
But childbirth is a matter of life and death for both mother and child. The fact that medical science is content to believe that the onset of labor is triggered by some kind of mysterious voodoo that can't possibly be understood is outrageous. One in 10 babies is born prematurely, and premature birth is responsible for 25 percent of infant deaths each year. Understanding that trigger and finding ways to prevent it from happening early could save thousands of lives — which is exactly why medical engineer Kristin Myers and OBGYN Dr. Joy Vink have decided to get serious about filling in the gaps in medical knowledge on childbirth:
"It's mind-boggling that in this day and age, we still don't understand [even] in a normal pregnancy how women go into labor — what triggers labor," Vink says. "Because we don't understand the normal fundamental mechanisms, we can't identify how things go bad — and then how we fix it when things go bad."… Most basic knowledge about pregnancy comes from research performed in the 1940s, Vink says, and she's working hard to update that information. She's focused first on the cervix, she says, because if doctors can get the cervix to stay closed in those final, crucial weeks of gestation, the baby won't be born too soon, even if the amniotic sac breaks. "So, what is the cervix made out of? What proteins are there, what cells are there? How are all these things interacting? How do they change in pregnancy?" she asks, laying out some of the unknowns. By the end of pregnancy, a woman's cervix goes from being stiff, like the tip of a nose, to very soft. But how? … One of her first findings, she says, is that the cervix is not made mostly of collagen, as doctors long thought. It also has a lot of muscle, especially near the very top.
Did you catch that? For a long time doctors have been mistaken about what the cervix, an essential anatomical feature of half the human population, even is. Given the crucial role the cervix plays in childbirth, it's no wonder that labor and delivery are so poorly understood, and that women and children have been so poorly served by medical research.
Luckily, that tide is turning — and not just in the area of preterm labor. When my last baby was born in 2016, I suffered a massive postpartum hemorrhage that my doctor was unable to stop using all the standby interventions she'd stocked the room with, just in case. But before she resorted to an emergency hysterectomy (which for decades has been the last resort in postpartum hemorrhage), she tried one more thing — a Bakri balloon.
It's just what it sounds like: a fluid-filled balloon that seals up the uterus and puts pressure against the site of the bleed, helping to control the hemorrhage. Since its invention in 2001, its had an 86 percent success rate at controlling postpartum hemorrhage … and in those cases where the device was unsuccessful, it bought the doctors time to stabilize the patient and prepare for surgical intervention.
I was among the 86 percent. After 24 hours, the hemorrhage had resolved and I was able to go home the next day. But the terror of feeling the life drain out of me while my mind drifted away from reality didn't resolve, nor did the agony of hearing my newborn baby crying from the edge of consciousness and being unable to bring myself back to him. I can still remember the disconnected way my mind knew I should be afraid, and the simultaneous understanding that fear was beyond my capability. I'm eternally grateful that this happened to me in 2016, when my doctor had the tools to save me, rather than 1916, or 1996.
Postpartum hemorrhage is the leading cause of postpartum death. This simple device has revolutionized postpartum care and saved the lives of countless women — including mine. If that same kind of research and ingenuity can be applied to preterm labor, can you imagine how many lives would be saved and how many parents would be spared the agony of losing their baby?
I can. And I'm so glad to know that Kristin Myers and Dr. Vink can too.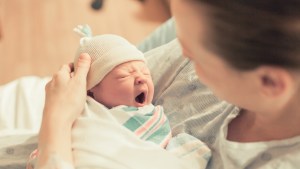 Read more:
The little decision that prepared me the most for my postpartum weeks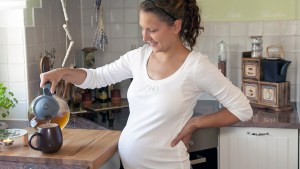 Read more:
The pregnant, postpartum, and breastfeeding woman's guide to fasting during Lent