Consider the only one who benefits from your excuses about prayer. And there IS someone ...
You can go 30 days without food, three days without water, three hours without shelter, and about three minutes without air. How long can you go without prayer?
I raise the question because prayer is one of the three traditional disciplines of Lent, along with fasting and almsgiving. Whatever the Church recommends as a reliable source of grace, you can be sure that the Enemy wants to impede. I don't want this to become another "prayer-nag" (that is, "You should pray more! I really mean it this time!")—that doesn't do anyone much good. Instead, let's look at prayer in terms of excuses, commitments, and definitions. If we understand these properly, then we can become better stewards of our promptings to pray.
First, a clarification: Jesus did not say "pray more" or "pray better." He called upon us to "pray always" (Luke 18:1). In other words, we have to learn to live the truth that praying isn't like picking up the phone and dialing God's number. Rather, prayer—that is, a prayer life rather than just a prayer time—is learning to live mindfully in the constant presence of God.
The excuse I hear most often about avoiding prayer is some form of "I'm too busy." Whether one is too-something or not-something-enough, what matters is that the only one who benefits from our habit of not attending to God's presence through prayer is the Enemy who hates God and hates us. What would you say to someone who claims, "I'm too busy to set the burglar alarm" or "I'm not sufficiently recollected to take this dose of anti-venom?"
The best commitment I've encountered to true prayer life I found when privileged to read the journal of a monastic prioress reflecting on her years in religious life. She said there were three things she was especially grateful for: 1) She received her First Holy Communion from Blessed Miguel Pro shortly before he was martyred; 2) She was able to enter the monastery at 15—the same age as St. Therese; 3) In 65 years of religious life, she never once missed a scheduled period of prayer—except when charity to neighbor demanded it. If there is a way to improve on that standard for a prayer life, I don't know what it is.
What about a definition of prayer that can help keep us committed to a prayer life? There may be as many definitions of prayer as there are people who pray, but I want to offer a definition of prayer that you might not have encountered before: Prayer is an act of defiance; prayer is an act of disobedience; prayer is an act of rebellion.
How can prayer be an act of defiance when Jesus tells us to "pray always"? Prayer is an act of defiance when we refuse to cooperate with the Enemy's whispers, distractions, and seductions not to pray. Praying is a way of yelling, "Get thee behind me, Satan!" (Matthew 16:23)
When Jesus taught his disciples to pray, he taught them to call upon God as Our Father (Matthew 6:9). Satan would have us believe that we are spiritual orphans—abandoned, rejected, neglected, unprovided for, and alone. When we don't have the habit of praying always, it's all too easy to believe such lies. Isolation leads to despair; despair reinforces isolation. When we are separated from the life of prayer, Satan can whisper to us: "You're alone; nobody knows; nobody cares—but you can make a deal with me. I'll make sure that you get what you want, what you need, what you deserve." My late mother, a woman of rough and ready wisdom, taught her children very early in life: "When the devil caresses you, he wants your soul." That's the warning we should hear when we consider cutting corners on prayer—what's the response?
St. Ignatius Loyola gives us the response. When we're tempted to cut corners on prayer, it's time to get stubborn. He says that we must "insist more upon prayer." Note the order of words: "insist more upon prayer," not "insist upon more prayer." We must not carve out a prayer time that is beyond the reach of our circumstances (e.g., a mother of three in diapers just can't pray like a Carmelite). That leads to failure and frustration. But we can cling to our sound prayer commitments, and, in a spirit of defiance, rebellion, and disobedience, rebuke the Enemy who would have us forsake the living God who is the very lifeblood of our soul. This Lent, let's resolve to turn to Our Heavenly Father who is always present to us, and who always wishes to bless us.
When I write next, I will add another installment to our series of Lenten reflections. Until then, let's keep each other in prayer.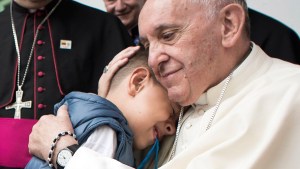 Read more:
The word Abba is like a recording of Jesus' voice, says pope