Once you begin this practice you won't want to stop, because the benefits are enormous.
My husband and I are what we like to (somewhat) jokingly call "professional Catholics." Working as college campus missionaries, we are incredibly blessed to have Mass and prayer and reading the scriptures literally built into our day. We've experienced — mostly through trial-and-error — that having a rich prayer life is a necessity, not only for our jobs but for our marriage and home life, too.
But so many couples today don't know how to begin praying together. It doesn't have to be complicated, sound like the Bible's Song of Songs, or involve an elaborate sacred space. It only requires you to be committed to growing in your spiritual lives with one another.
Here are my top five tips for praying as a couple:
Put it on your calendar
Prayer is the most important thing you can do for yourselves and for your relationship, so why not schedule it into your week? For some people, it makes sense to pray at the same time each day – in the morning, after dinner, before you sit down and watch TV at night. But if your schedule changes drastically from day to day, take time at the beginning of each week and find a time. Put it on your calendar, your phone, your planner, wherever you'll see it. This time should be non-negotiable. Not only will scheduling into your day make you more likely to commit to it, but regularity breeds habit.
Start small
Don't jump right into a three-hour adoration shift from the get-go. Try a Rosary (or even a decade of a Rosary). Or maybe consider attending one extra Mass together a week. Set realistic and achievable goals with your partner and then, fully commit to them. But also don't be afraid to challenge yourselves. One decade of the Rosary a week probably isn't too hard; try instead to pray a full Rosary or a decade each day.
Talk about your prayer life
Just as in everything else you do together, communication is key. Intentionally talk about your prayer life with your spouse, fiancé, boyfriend/girlfriend. Ask them about their prayer life: "What has Jesus saying to you recently?" Then listen, and be open to sharing your experiences in prayer. It's an excellent way to grow closer to your partner and also helps you figure out the direction you should go in together.
Don't knock the classics!
People tend to over-complicate the idea of prayer, particularly prayer with your significant other. But, the Church gives us literally hundreds of prayers that can be used for private devotion. Can't think of a "creative" way to pray as a couple? Try the Rosary, Lectio Divina, a nightly examen. Even attending Sunday Mass is an excellent way to pray with your spouse, fiance, or significant other. No need to write an epic love ballad when you can use one or several of the prayers already in the Church's tradition. (Though if you do, shoot it to me in a message — I'd love to hear it!)
Let the Holy Spirit guide you
While talking about what we were hearing in prayer (a la step 3), my husband and I realized that we both had the desire to pray more with the scriptures. So, we started doing Lectio Divina as a couple twice a week; and when we realized how fruitful it was we started doing it daily.
When it comes to praying together as a couple, be open to the movement of the Holy Spirit and be willing to be adaptable. Don't be afraid to change directions and try something new, or even a little unconventional. Ask God to make your time together fruitful, and He will.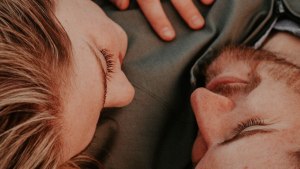 Read more:
Marriage, sex, and prayer: what the Scriptures say