The ideal we long for is truly reachable. Let us take comfort in that.
We all want to be citizens of heaven; we just don't call it that.
The longing for a better life is at the heart of every great story from Cinderella to Wonder Woman, from Beowulf to Bohemian Rhapsody.
We all want to be perfectly happy and perfectly fulfilled, our enemies conquered and our world safe at last. You can see this cropping up in many ways in our lives: We are always trying to look better, smell better, and impress more. We are always frustrated by almost reaching, but never quite reaching, the ideal.
In this Sunday's readings, the Second Sunday of Lent, Year C, Jesus Christ shows us that the ideal is truly reachable. The Church gives us these readings early in Lent to remind us how to get there.
What happens to Jesus in the transfiguration will happen to us, also, if we follow him.
"Jesus took Peter, John, and James and went up the mountain to pray," says the Gospel. "While he was praying his face changed in appearance and his clothing became dazzling white. "
This astonishing sight reveals who Jesus Christ is, fundamentally. He is the son of God, and his glorified body shows his true dignity.
This is exactly what we are longing for when we try to add extra shine and zest to our appearance. There is a reason for that: This is our true self also.
St. Paul says it this way: "Our citizenship is in heaven, and from it we also await a savior, the Lord Jesus Christ. He will change our lowly bodies to conform with his glorified body."
The Gospel demonstrates this when two citizens of heaven come to Jesus' side: Moses and Elijah, "who appeared in glory."
When we try to get this glory apart from the savior, Jesus Christ, we fail badly.
I observed this phenomenon in two different crowds I saw recently.
One was a group at a recent conference I attended of the Institute for Religious Life. The other was the crowd watching the Academy Awards on ABC.
The Oscars crowd was made up of the cream of the crop of famous beautiful people — people who spend a lot of money on clothing, fitness and plastic surgery to look their best. The Institute crowd was a collection of unknown nuns, brothers, and priests whose physical characteristics and manner of dress would have looked shabby next to the Hollywood crowd.
But the religious conference crowd looked transfigured. Their eyes sparkled, they seemed eager to love, and even the ones the world would call unattractive were beautiful. Their smiles filled you with warmth and inspired you by how gentle yet unyielding in their commitments they were.
How did they get that way?
St. Benedict compared religious life to a lifelong Lent. If it is truly lived that way, it transfigures.
Our mini-Lent can do the same thing.
Moses and Elijah spoke to Jesus "of his exodus he was going to accomplish in Jerusalem." That exodus is the Passion, death, and resurrection, and it is exactly the journey we are on with him right now.
The original exodus took the Israelites away from slavery to Egypt and the curse of death through the desert of suffering and the Ten Commandments. Ours takes us away from slavery to the world to God's new commandment of love through prayer, fasting and almsgiving.
But an exodus isn't easy.
Living a comfortable life will not make us into citizens of heaven. Only following Christ's new covenant will.
In Sunday's First Reading, God demonstrates to Abram what a covenant looks like.
He told Abram to cut animals in half and put them side by side. Then he passed between the two symbolically, using the image of a firepot. This is the ancient method of "signing" a contract. The meaning is, "If I break this covenant with you, may what happened to these animals happen to me."
We see this covenant turned on its head in Jesus Christ's life. Abraham's descendants did break his covenant — God's chosen people were unfaithful. But God, becoming man in Jesus Christ, let the terrible curse fall on himself, not us.
Just as the firepot passed between animals, Jesus was born among animals in Bethlehem and then fasted. He lived "with the wild beasts." When it comes time for him to die, he died like an animal, cut and pierced like a sacrifice.
That sacrifice is repeated at every Mass, where Jesus establishes this covenant with each of us again. He is separated on the altar — his body and blood put before us in the Eucharist — and then calls us forward to claim us as his own in communion.
So take courage this Lent.
Lent is not misery on the one hand or an impossible self-improvement plan on the other. It is the time to make ourselves into citizens of heaven. We do it by removing obstacles to Jesus Christ, who draws us into his transfiguring covenant, which we enter into at each communion.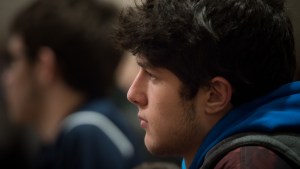 Read more:
This Lenten practice will get to the heart of all the others