Words are wholly inadequate when the boundary between human and divine is so blurred.
Jesus took Peter, John, and James and went up the mountain to pray. While he was praying his face changed in appearance and his clothing became dazzling white. And behold, two men were conversing with him, Moses and Elijah, who appeared in glory and spoke of his exodus that he was going to accomplish in Jerusalem.

—Luke 9:28b-31
According to long-standing tradition, the various accounts of Jesus' temptations in the wilderness are proclaimed on the First Sunday of Lent.
The Second Sunday of Lent finds us revisiting another event in Jesus' life each year—the Transfiguration.
When I reflect on the Transfiguration, I'm reminded of this passage from the Revelations of Divine Love by Julian of Norwich:
I saw Him and still sought Him, For we are now so blind and so unwise that we never seek God until He of His goodness shows Himself to us; and when we see anything of Him by grace, then are we moved by the same grace to try with great desire to see Him more perfectly. And thus I saw Him and I sought Him, and I possessed Him and I lacked Him. And this is, and should be, our ordinary behavior in life.
Unlike Dame Julian and other mystics who experience the reality of God's presence in a unique way, we are often very quick to try to note the distinctions—the boundaries—between the human and the divine. Even our ways of talking about God can make the divine realities seem far-removed from our daily lives. The Church's greatest minds and grace-filled mystics have understood that our limited human perspectives, especially our words, fail us when we are allowed even the slightest glimpse of the glory of God.
It's easy to imagine the evangelists, including St. Luke, struggling with the limits of language as they recalled what happened on the mountain that day as Jesus made his way to Jerusalem. Although we often think of the Transfiguration of Jesus—the wonderful way in which the divine glory of Jesus was revealed to Peter, James, and John—as having been for the benefit of the disciples, we can also understand that the Transfiguration, like his Baptism by John in the River Jordan years before, was a pivotal moment in the life of Jesus.
In his gospel, Luke places the Transfiguration during a time of prayer, immediately before Jesus begins to make his way to Jerusalem where he will take up the Cross and give up his life in "the exodus that he was to accomplish."
A cloud, a sign of God's presence, overshadowed Jesus and Moses and Elijah (representing the law of the Old Covenant and the preaching of the Prophets), encouraging him to continue his journey. And so, in the Transfiguration, Jesus is bolstered to continue his journey and mission, knowing that regardless of what lies ahead his Father remains with him, guiding his steps and making his mission bear fruit.
In the end, as we reflect on the mystery of the Transfiguration on this Second Sunday of Lent, we are reminded that the death of Jesus was not an accident of fate or some expression of Divine wrath, but an act of love, freely accepted and offered for the sake of those who are "least" in the Kingdom of Heaven—for you and for me.
As Henri Nouwen reflects in his Sabbatical Journey, "Jesus wants us to see his glory, so that we can cling to that experience … When we are attentive to the light within us and around us, we will gradually see more and more of that light and even become a light for others. We have to trust that the transfiguration experience is closer to us that we might think. Trusting that, we may also be able to live our Gethsemane experience without losing our faith."
When have you been called to make sacrifices for the sake of another person? How was this a moment of "transfiguration" for you?

When you have a special experience of the presence and power of God, do you want to "build a tent" and remain on the mountain or do you feel called to share the gift you have received with others?

How does the notion that Jesus had to face the prospect of suffering and death challenge you? How does it inspire you to see God at work in the little crosses that you take up each day?     
Words of Wisdom: "Thinking no doubt that the time for the kingdom of God had already come, Peter would gladly have remained on the mountain. He suggested putting up three tents, hardly knowing what he was saying. But it was not yet time for the end of the world; nor was it in this present time that the hopes of the saints would be fulfilled—those hopes founded on Paul's promise that Christ would transform our lowly bodies into the likeness of his glorious body. Only the initial stage of the divine plan had as yet been accomplished …
"As well as the vision of Christ's glory, wonderful beyond description, something else occurred which was to serve as a vital confirmation, not only of the disciples' faith, but of ours as well. From a cloud on high came the voice of God the Father saying: This is my beloved Son in whom I am well pleased. Listen to him."—St. Cyril of Alexandria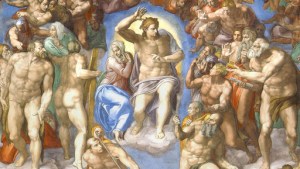 Read more:
What will happen to the planet at the end of the world?