Merely turning your attention to his place in these five events will bring you life-changing insights.
St. Joseph is one of those rare saints whose feast day merits a Solemnity — the equivalent of a Sunday — March 19's Solemnity of St. Joseph, Husband of the Blessed Virgin Mary.
You can see why he is so great if you look at just what kind of "Husband of Mary" he was, in the Joyful Mysteries of the Rosary.
The First Joyful Mystery and Joseph's own Annunciation.
This mystery is all about the angel Gabriel's visit to Mary, when he announced that she would conceive the Son of God.
But Joseph also had an annunciation. Gabriel appeared in a dream and said, "Joseph, son of David, do not fear to take Mary your wife, for that which is conceived in her is of the Holy Spirit."
Mary's reply is famous as a formula for accepting the will of God: Fiat, "Be it done unto me according to your word."
Joseph didn't speak an answer to the angel that we know of. Instead, "When Joseph woke from sleep, he did as the angel of the Lord commanded him."
Joseph's "fiat" is more like the fiats in my life — not an eloquent "Yes" to my vocation but the undramatic Yes of getting out of bed and getting to work.
The Second Joyful Mystery: Joseph enables the Visitation.
Being a husband like Joseph is all about loving one's wife as Christ loves the Church. That means you have to be willing to die for her. Joseph was the model of husbands who make that ultimate sacrifice.
But, of course, moments when you can die for your spouse are rare. Three other kinds of dying for her are necessary: serving her, forgiving her — and letting her serve others besides you.
Joseph was a model of each of these kinds of "dying." He provided for and protected her, putting her needs before his own. He accepted celibacy, making her the ever-Virgin Mary.
He also helped his wife follow her own mission in life, even when it took her away from him for a time. At the Visitation, when she went away to visit and serve her cousin Elizabeth, Joseph probably got her there, then returned three months later to pick her up.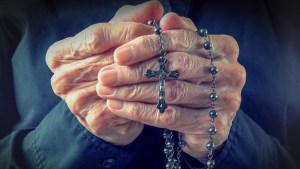 Read more:
Tiny reflections that will make your Rosary into a real meditation
The Third Joyful Mystery: Joseph at the Birth of Christ.
Joseph's relationship with Mary takes center stage at Bethlehem. Mary is a dutiful wife, going to Joseph's town of census while nine months pregnant. Joseph is a dutiful husband, finding Mary a place to give birth and staying by her side.
But think of what this means: He is a great patron for religious sister and brothers, because he was the first person to adore Christ (that night, he held the first all-night vigil!) and the first to devote his life to Christ in celibacy. He is also a great patron for parents, because he was the first dad to make Jesus Christ the center of his family and the first spouse to put Christ at the center of his marriage.
The Fourth Joyful Mystery: Joseph and the Presentation.
Gabriel didn't just tell him to take Mary as his wife. He had other instructions for him as well: "She will bear a son, and you shall call his name Jesus, for he will save his people from their sins."
That means that one of Joseph's great tasks was to give Jesus his name — "God Saves" — just as Zechariah was tasked to name John the Baptist.
Joseph and Mary would have named Jesus eight days after his birth, at his circumcision. The Presentation was a month later, 40 days after birth.
But in both cases, Joseph takes on a role that is majestic: On the one hand, Christ is the incarnate Word who was spoken by the Father; on the other hand, Jesus is a son of David because of Joseph, who names him. On the one hand, the Father presents Christ to the world as a sacrifice of his love; on the other hand, Joseph presents Jesus to the Father in the Temple, with his own sacrifice.
The Fifth Joyful Mystery: Joseph finds Jesus in the Temple — and takes Him home.
Joseph returns to the spotlight again when Jesus is 12 years old and his parents take him up to the Temple but lose him on the way home, assuming he is "among their kinsfolk and acquaintances."
When they finally find him in the Temple and ask where he had been, Jesus' answer must have sounded especially provocative to Joseph's ears: "Did you not know that I must be in my Father's house?"
If that sounds like a declaration that he would not treat Joseph as his father, the Gospel reassures us two verses later that Jesus "went down with them and came to Nazareth, and was obedient to them."
The next time we hear about Joseph in the Gospel, it is when people are astounded by his miracles and call Jesus "the carpenter's son."
Both stories give a new dimension to Joseph's fatherhood — and mine.
To be a dad like Joseph, I have to take my son to church. I have to give him freedom to find his own identity, but also command obedience. And if I am good father, one day my son will be closely identified with me.
St. Joseph, pray for me, that I might be the kind of husband and father that you were.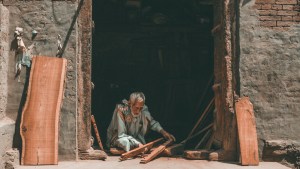 Read more:
Were Jesus and Joseph really carpenters?