Devotion to St. Joseph, husband of Mary, can be traced back to the beginning of the Church
What can God do in your life with one Bible verse a day?
Subscribe to Aleteia's new service and bring Scripture into your morning:
Just one verse each day.
Click to bring God's word to your inbox
Devotion to St. Joseph, husband of Mary, can be traced back to the beginning of the Church, with a local feast dedicated to St. Joseph confirmed in Egypt as early as the 4th century. One of the earliest dates for honoring St. Joseph was July 20.
However, a commemoration of St. Joseph was soon added to the Byzantine calendar on December 26. Many Eastern Churches continue this celebration, mentioning Joseph as "Holy Righteous Joseph the Betrothed." According to the Orthodox Church, "Saint Joseph is commemorated on the Sunday after the Nativity. If there is no Sunday between December 25 and January 1, his Feast is moved to December 26." This celebration of Joseph puts him near the feast of Christ's birth, December 25, an event he was present for, according to the Gospel accounts.
In the Western Church, the feast of St. Joseph wasn't fixed until the 15th century. According to some traditions, March 19 was the day of Joseph's death, though there is little evidence to support it, as it is unclear when Joseph died. It is certain that he was present when Jesus was 12 and "lost in the Temple" but there is no mention of him at the beginning of Jesus' ministry, say at the wedding in Cana, when Our Lord turned the water to wine.
The Bible is entirely silent about his death and as a result, the Church relies on oral traditions passed down over the centuries.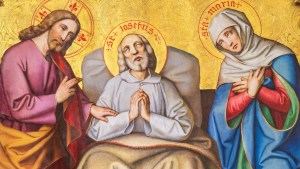 Read more:
How did St. Joseph die?
By 1621 Pope Gregory XV extended a feast of St. Joseph to the entire Church and it was elevated even more when Pope Pius IX declared Joseph the "Patron of the Universal Church" in 1870. For many decades March 19 was a holy day of obligation on par with other major feasts in the Catholic Church.
Read more:
How half a dozen recent popes have called us to learn from St. Joseph
This placement of St. Joseph in March puts him in proximity to another biblical episode where he is directly mentioned. On March 25 the Church commemorates the Annunciation of the Lord, when the angel Gabriel visited the Blessed Virgin Mary. As the Gospel of Matthew narrates, "before they came together she was found to be with child of the Holy Spirit; and her husband Joseph, being a just man and unwilling to put her to shame, resolved to send her away quietly" (Matthew 1:18-19).
While this biblical event happened after the Annunciation, other biblical characters associated with the Annunciation are similarly commemorated before March 25, such as St. Gabriel on March 24.
In any case, the primary focus of the feast on March 19 is revealed in the liturgical title, "Joseph, Husband of the Blessed Virgin Mary." This solemnity — with the highest liturgical ranking accorded to saints — honors his commitment to Mary and dedication as a faithful and devoted husband.
St. Joseph's Day is a beautiful feast, one that is beloved and cherished by Catholics around the world.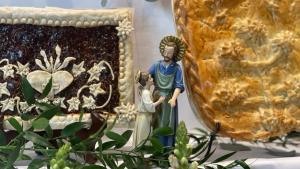 Read more:
What is a St. Joseph's Table?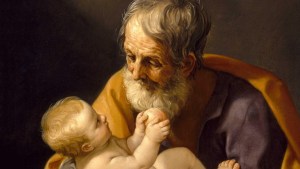 Read more:
How old was St. Joseph when Jesus was born?