Shoes interfere with a child's neurological and physical development ... so liberate your family this summer, mama!
When we lived in Florida my kids basically never wore shoes. They did each have at least one pair for school that usually doubled as church shoes, and we had endless pairs of flip-flops and sandals kicking around the house … but when they went outside, it was inevitably barefoot.
To tell you the truth, it never bothered me. Feet are way easier to clean than shoes, and it always seemed that my kids run, jump, and play much better without shoes.
When we moved back to Texas, though, we were once again in a land of seasons. Shoes became a vital component of my children's wardrobes rather than an afterthought. And gradually over the past year, regardless of the weather, my kids have lost the habit of going outside barefooted. I didn't really think much about it until yesterday, when the sun came out after days of cold rain, and my kids all ran outside to enjoy it.
In their enthusiasm, they went out barefoot. Almost immediately, 3-year-old Isaac tripped. A few minutes later, 6-year-old Lincoln asked for shoes and socks so his feet didn't get wet … something that had never bothered him during his entire childhood in Florida. Right then and there, I realized there was a lot more involved with kids and bare feet than just the relative ease of cleaning them. In fact, according to child development expert Rae Pica, being barefoot is vital for children's development:
Among other things, it's important to development of the nervous system and to optimal brain development as well! Turns out the feet are the most nerve-rich parts of the human body, which means they contribute to the building of neurological pathways in the brain. Covering them in shoes, therefore, means we're eliminating all kinds of opportunities for children's brains to grow new neural connections… The truth is, many podiatrists contend that shoes can be much more harmful to little feet than nakedness can. Feet should be allowed to develop naturally, not conform to the shape of a shoe. Also, shoes can often constrict movement of the feet, and can negatively impact walking, balance, sensory development, and proprioception (the understanding of our body's orientation in the space around us).
Last night, my mom was telling me a story about how Isaac had tripped again earlier that evening, and she mentioned that he seems to be a little uncoordinated. I've wondered about that myself — he doesn't lack hand-eye coordination, but his feet seem to get tangled up in each other in a way none of my other kids' feet did.
The biggest difference, of course, is that of all my kids, Isaac has spent far more of his baby- and toddler-hood in shoes. Sometimes because of the weather, sure, but more often simply because people in Texas don't walk around barefoot the way everyone in Florida did.
But in conforming to cultural norms, I've unknowingly cut my youngest child off from a God-given source of neurological and physical development — the ground beneath his feet. He's not naturally clumsy, but he hasn't had the opportunity to develop proprioception the way God intended us all to develop it — by feeling the grass under our feet, squishing the mud between our toes, and learning how to run, jump, and walk the way our bodies were designed to, without interference from or reliance on stiff soles and arch support.
Happily, spring is finally upon us. And this year, I'm going to reintroduce my children to the joy of going barefoot … no matter what the neighbors might think.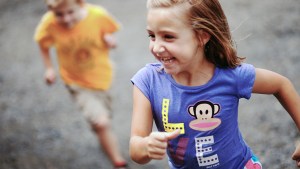 Read more:
Doctors are writing prescriptions … for kids to play outside
Read more:
Why your kids should go barefoot