Do we do enough to show our appreciation and love for our moms?
Mothers may look like they're made of steel, and seem to be superheroes like Wonder Woman. This is the result of the deep love they have for their children, which makes them seem unbreakable, as if they could forgive anything in the blink of an eye without feeling hurt.
However, that's not the case. Whatever our age, we should do everything possible to avoid hurting our mothers, and instead, look for ways to make them happy. Here are some things guaranteed to warm your mother's heart!
1. Acknowledge her and thank her. Sometimes, we take it for granted that when we go home we'll be welcomed by our mother's warm smile and an affectionate hug, and that there will be a hot meal on the table and clean clothes in the closet. We can neglect to appreciate the fact that we have a mother who cares for us.
We need to remember to thank her, acknowledging all the work that goes into being a loving mother. We should pay attention to the details of what she does for us, and thank her explicitly as often as we can. That will help her feel appreciated, respected, and loved.
2. Try to keep a good relationship with your siblings. It causes a mother great sorrow to see that her children, all of whom she loves equally are unable to get along, fighting like cats and dogs. For her sake, if not for our own and for that of our brothers and sisters, we should try to have as healthy and cordial a relationship as possible. That will give our mother great happiness.
3. Remember to stay in touch with her. Although mothers are willing to understand, overlook, and forgive much, they are no fools. When we only turn to them when it's convenient—to ask for money, or to get help when we're in trouble—she'll be there for us, but that doesn't mean she doesn't notice our selfishness.
Our mothers want to be part of our lives. We should try to have contact with them frequently, not just when our self-interest dictates it. There's no excuse not to show her our love and gratitude on a regular basis, especially when she's only a text message or a phone call away (and when we can audio and video chat with just a click or a tap, we can't use long-distance fees as a reason not to talk). Take a minute to text or call, even if just to say, "Mom, I just wanted to hear your voice! I love you!"
4. Just as we should try to have good relationships with our mother and our siblings, the same applies to our father. Our mother wants us to respect and love our father, especially when (in the ideal case) our parents have been together for decades and have weathered the inevitable ups and downs of married life, remaining faithful to each other and to us, their children. If we disrespect one, we disrespect the other. If we hurt or reject the man our mother loves and has chosen to be her life partner and the father of her children, we hurt her heart as well.
We should have many other reasons to respect and love our father (it's one of the 10 commandments, after all), but if for no other reason than for love of our mother, even if we have a difficult or distant relationship with our father, we should do our best to appreciate him.
5. Listen to her advice. Our mother often knows us better than we know ourselves, and she has invaluable life experience. She's had her own victories and made her own mistakes, and she's raised children. It might seem like she's intruding on our lives sometimes, or "just doesn't understand" what we're going through, but the chances are she actually has valuable insights for us. It's hard for a mother to watch her children walk into bad situations, make mistakes, or miss opportunities, when she can see it coming a mile away.
On the contrary, when we take our mother's advice and it helps us to be happier and more successful, nothing could make her happier. Even if we can't always take that advice, we should at least listen.
Mothers aren't perfect, but they want what's best for their children, and from the very beginning until death separates us, they will try to love and support us. We owe them our love, respect, and gratitude. If we try to make them happy by being grateful, cultivating healthy family relationships, and listening to their advice, we'll find it will make us happier and healthier people too.
Read more:
The most important thing a father can do for his children is to love their mother.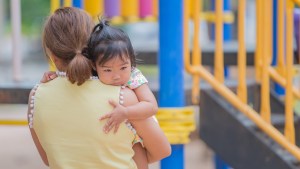 Read more:
4 Subtle ways to support the mothers in your life