The Hebrew name has a rich spiritual meaning behind it.
Due to St. Joseph's privileged role being the foster-father of Jesus and husband of the Virgin Mary, his name has become one of the most popular names for boys of all time.
What does it mean?
The name "Joseph," is derived from the Hebrew Yosef and is first mentioned in the Old Testament. According to Abarim Publications, "The verb יסף (yasap) means to add, increase or do again. This verb is the common word to use when something is simply added."
This verb becomes a name in the book of Genesis when Rachel, the second wife of Jacob, finally bears a son after many years of infertility.
Then God remembered Rachel, and God hearkened to her and opened her womb. She conceived and bore a son, and said, "God has taken away my reproach"; and she called his name Joseph, saying, "May the Lord add to me another son!" (Genesis 30:22-24)
Rachel eventually has another son and names him "Benjamin."
Joseph's name is often rendered as "Increaser" or "Doubler," while some biblical commentaries state that his name means "He (the Lord) will add," explaining that God's name is implied, though not explicitly part of the Hebrew name.
St. Josemaria Escriva reflects on this meaning and connects it to St. Joseph in a homily printed in the book Christ is Passing By.
[T]he name Joseph, in Hebrew, means "God will add." God adds unsuspected dimensions to the holy lives of those who do his will. He adds the one important dimension which gives meaning to everything, the divine dimension. To the humble and holy life of Joseph he added — if I may put it this way — the lives of the Virgin Mary and of Jesus, our Lord. God does not allow himself to be outdone in generosity. Joseph could make his own the words of Mary, his wife: "He has looked graciously upon the lowliness of his handmaid… because he who is mighty, he whose name is holy, has wrought for me his wonders."
Many other saints have affirmed that devotion to St. Joseph has "added" much to their lives, enriching it through God's abundant grace.
The name of Joseph is one with a rich spiritual history and provides much material to meditate on during your next time of prayer.
Read more:
This ancient prayer to St. Joseph has "never been known to fail"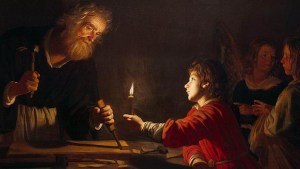 Read more:
Place yourself under St. Joseph's protection with this beautiful devotion