And why it makes so much sense to obey God
Pope Francis took up the third petition of the Our Father — thy will be done — reflecting what it is we're actually praying for: "Here is the will of God, the one that we pray to be done. What is the will of God incarnated in Jesus? To search and save what is lost."
With this, the pope continued examining the Our Father in the Wednesday general audience.
And we, in prayer, ask that the search for God be successful, that his universal plan of salvation be fulfilled, first, in each of us and then in the whole world. Have you thought about what it means that God is looking for me? Each one of us can say: "But, God is looking for me?" – "Yes! He is looking for you! He is looking for me": He looks for each one, personally. God is great! How much love there is behind all this.
The pope said that "God is not ambiguous," planning the future of the world in a way we can't decipher. "No," Francis said, "He is clear."
This, without a shadow of a doubt, is the will of God: the salvation of man, of man, of every one of us. God, with His love, knocks on the door of our heart. Why? To attract us; to attract us to Him and to lead us ahead on the path of salvation. God is close to every one of us with His love, to lead us by the hand to salvation. How much love there is behind this!
So when we pray that God's will be done, we aren't bowing our heads as if we are slaves, the Holy Father said. "No! God wants us free; it is His love that frees us. The Lord's Prayer, indeed, is the prayer of sons, not of slaves, of sons who know their father's heart and his plan of love."
The pope said that the will of God is for our freedom.
The Christian does not believe in an ineluctable "fate." There is nothing haphazard in the faith of Christians: There is, instead, a salvation that awaits manifestation in the life of every man and woman, and fulfilment in eternity. If we pray it is because we believe that God can and wants to transform reality by overcoming evil with good. To this God it makes sense to obey and abandon oneself even in the hour of greatest difficulty.
Launch the slideshow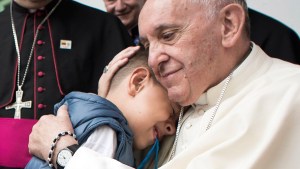 Read more:
The word Abba is like a recording of Jesus' voice, says pope