It's been culturally ingrained in many of us to teach our little ones "independence" from the get-go ... but we need to think again.
When I was a first-time father, I had grand ideas. I thought it would be a simple matter to convince our six-month-old daughter to adapt to a sleep schedule. I was even convinced she would be interested in sleeping alone in her crib. We were of the opinion it was important to not coddle her, which would hamper her independence as she grew up. Pshaw to all that "attachment parenting" stuff, whatever that was about.
Other parents told us miracle stories of how they had babies who had no problem with sleeping alone and on a schedule. I'd even heard whispered rumors of toddlers who put themselves down for a nap! I wanted to live this parenting dream, so we tried to make it a reality. There was only one problem: our daughter wasn't interested. At all. At bedtime, there was a lot of crying. Screaming. Recriminations.
I'll put it bluntly, it was a bad idea. Maybe the worst I've ever had. I suspect our historic bedtime battles are why our daughter — now 12 years old — still looks at me sideways to this very day. She knows she conquered me, because after about a week of trying to train her to sleep alone we gave up and she was right back in bed with us.
With each of our subsequent children, we've become more and more convinced that, particularly in those first few years of their lives, it is impossible to be too close to them. There are no more artificial sleep schedules and no more sleeping alone. When our current infant wants to nap, she's usually cuddled up in a wrap on mom's back or in the arms of a sibling. If a baby or toddler needs to crawl in bed with us, that's okay, too. (I'm aware that co-sleeping can be a controversial subject and there are ways to do it safely.) In our experience, the idea that a parent can spoil a child and destroy her independence hasn't turned out to be true. As they've grown older, all of our children seem to be spreading their wings and exploring the world outside our family nest just fine.
Some infants want to be held more than others. Some are happy to nap by themselves or hang out in a baby seat with a toy, while others want more regular human contact. Even in our small brood there have been vast differences between our babies. We've had one that refused to let anybody but her mother hold her for the better part of two years, and we've had others that are happy to roll around on the floor and laugh and play with pretty much anybody. There's no right, formulaic answer to how much a baby ought to be held, with the exception that we should all agree mom knows best. If a baby is screaming on the floor, or fussing in the crib, her instincts tell her to pick and comfort her baby. She wants to protect her child and her instincts are absolutely correct. The first and best way for us to support our babies is to indulgently lavish them with love and cuddles and hugs, especially when they're upset.
This is a mother's instinct, but it's also science. It's been shown that babies benefit from skin-to-skin contact. Not only are they less stressed out and cry less, but they also show cognitive improvement, less propensity to develop colic, and have healthier feeding patterns. There is no substitute for a mother's touch.
As I watch my own wife give so much of her time and personal space to our children, I think about how demanding it can be to have another little person in such intimate, close proximity at all times. Even though we all love our children, it can be overwhelming to deal with their constant need for attention and affection. The longing for freedom can settle on a parent almost like a slow martyrdom. We give our lives to these little ones and the reward is a trail of drool down the back of our neck. The rewards, though, are not why we choose to become parents. We become parents in order to expand our hearts and share our love.
Tomorrow is the Feast of the Annunciation, the day the Blessed Virgin Mary said yes to conceiving Jesus in her womb. Almost all of the subsequent paintings of Mary that depict her with her young, growing son show him on her lap or in her arms. She is always holding her child and always looking at his face. Even at the end of his life she is depicted, for instance by Michelangelo's Pieta, holding her son in her arms, a mother whose heart has been pierced, and the best response she has is to hold him close. He is dead and still she comforts him, she is still a mother. This is why we hold our children, because for better or worse everything we have, everything we are, has been made a gift to them.
This is what I see in the strong yet tender arms of any mother or father who holds their baby tight, the unrelenting support for that little one to go out, grow up, and change the world.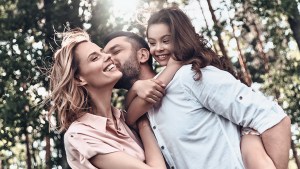 Read more:
Why kids need to see their dads show affection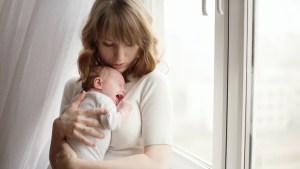 Read more:
A lack of attachment is tied to personality disorders