Fleeing the Boko Haram, his Christian family made it to America and are now living in a homeless shelter, but probably not for long.
In 2017, with growing attacks on Christians in northern Nigeria, the Adewumis decided to flee their native country with their young son, Tanitoluwa, to start a new life in America. Two years later, while  living in a homeless shelter in New York, the parents haven't stopped encouraging their now 8 year-old son to rise to meet his dreams.
In the space of just one year, Tanitoluwa — or Tani as he's affectionately known — has not only started playing chess, but he's become a state champion.
According to USA Today, Tani came first in the New York State Scholastic Championships tournament in the kindergarten-to-third-grade category, which is already impressive. Add to this his living conditions, and you have a chess master in the making — something Tani is aspiring to, telling the New York Times that he wants to become the youngest ever grandmaster.
While his amazing feat is down to some serious talent, there are also a number of people who've helped Tani along the way. Thanks to the eagle eye of Shawn Martinez — a school chess coach who spotted Tani's potential — the young champ was given the opportunity to join a chess program. However, since his family was unable to pay the fees, Russell Makofsky, who runs the Manhattan's P.S. 116 chess program, decided to waive the costs, which can reach thousands of dollars. And it has proved worthwhile, as Makofsky explains: "One year to get to this level, to climb a mountain and be the best of the best, without family resources … I've never seen it."
Tani's devout parents also supported him in his ambitions. His mom takes him to three-hour practice sessions and his dad lets him use his laptop to continue practicing online once back home. A student also kindly gave Tani a chess clock to make sure he is well equipped.
The future looks very bright for this young man who's already amassed seven trophies. Martinez believes he'll hit the master status within the next couple of years, which is truly an achievement considering the youngest holder of grandmaster is 12 years old.
As with so many success stories, it's thanks to people offering their help and support that Tani was able to excel. And the kindness continues with Makofsky doing his best to make sure the family has a proper roof over its head thanks to a GoFundMe page he has set up for his young pupil. People are rallying around the family and offering not just money but legal services, jobs, and even a car.
With the fund totaling a huge $200,000 and growing, Tani's father Kayode posted this message of gratitude: "To whom much is given, much is required. We need a home, he gave us, our needs for Legal assistance, for Job, Living all has been met. So we take our blessing and give them back to God and to the World."
In response to all the generosity received, the family is setting up a foundation in Tani's name to help others in need.
Read more:
What does the Bible say about refugees?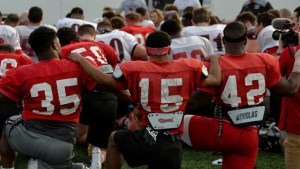 Read more:
This college football team prayed a weekly Rosary all the way to the championship