Have trouble getting your kids to be active? Here's a cheap, easy, and effective way to get your whole family moving!
When we're young, exercise is effortless. Think about how many times you've had to stop your child from running full-tilt through the grocery store, climbing up a bookshelf, or jumping into puddles just to see the water splash. Kids are full of energy and naturally inclined to use it.
Nevertheless, the human brain is hardwired to conserve energy. Researchers theorize that the brain's preference for being sedentary is a survival mechanism that evolved during humanity's hunter-gatherer days, when survival was inextricably tied to physical activity.
When the only way to eat was to expend the necessary energy to hunt, kill, gather, and prepare food, energy was a precious resource that our brains learned to protect and conserve by making the choice to move more difficult. It requires a greater recruitment of frontal brain resources–particularly those that relate to conflict monitoring and inhibition — to move our bodies.
This is why it's a lot easier to turn on Netflix than to go for a run — even if you love running. It's why our kids quickly learn to prefer hours of TV to playing outside, even though hours of TV make them irritable and hours in the sun make them content. And it's why trying to change your family's lifestyle from sedentary to active can be so difficult.
But we all know that change is necessary — and not just for our physical health. You probably know that being habitually physically inactive causes profound mental and emotional shifts that are detrimental, and sometimes deadly. What you might not know is that physical inactivity also inhibits the process of learning, as John J. Ratey explains in Spark: The Revolutionary New Science of Exercise.
It's about growth versus decay, activity versus inactivity. The body was designed to be pushed, and in pushing our bodies we push our brains too. Learning and memory evolved in concert with the motor functions that allowed our ancestors to track down food, so as far as our brains are concerned, if we're not moving, there's no real need to learn anything.
So the question isn't why you should get your kids involved in some kind of physical activity: it's how. Not everyone has the resources for gymnastics lessons or extracurricular sports, and we don't all live in places that make riding bikes or even playing at playgrounds a practical option for daily life.
Luckily, I accidentally stumbled upon the most foolproof method I've ever found to get my kids to exercise with me. It requires very little space and utilizes the single most effective whole-body conditioning exercise that exists: the burpee. All you need is the time-lapse function on your phone, and your kids will be burpeeing with you in no time. Behold:
Now, this particular video was for a 50-burpees-for-30-days challenge I'm doing — by no means am I suggesting that you and your kids should leap right into 50 burpees a day! Starting with 10 a day and building on that each day is a great challenge you can embrace as a family, and the time-lapse video function serves 2 purposes: 1) it makes it fun for your kids and 2) it's a visual record of your progress as a family.
Here's why I think this is so effective to do with your kids: once you set a goal and involve them in it, especially if you're including a fun factor like a video, your kids will hold you accountable. My 3-year-old Isaac asks every day when we are doing the burpees. It's become his favorite part of our day, and his enthusiasm gets me outside even when burpees are the last thing I want to do … which is more often than you probably think.
Burpees are hard, y'all. Really hard. So getting your kids to think they're fun at a young age is one of the best gifts you can give them. And who knows … they might end up loving burpees so much that they become little burpee-giving exercise evangelists.
Don't laugh — it can totally happen.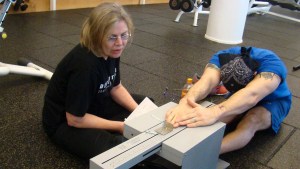 Read more:
3 Ingenious ways to combine exercise and prayer, and find time for both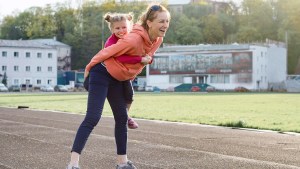 Read more:
The best motivator to exercise and get healthy is as simple as this….