We should pray that we won't fall into the temptation of either brother.
We say the Our Father so often that we can forget just how powerful it is.
The parable of the Prodigal Son (whose story we hear this weekend on the Fourth Sunday of Lent, Year C) can remind us.
The Prodigal Son starts out like we do — in the home of Our Father.
The Lord's Prayer reminds us that we live in a wonderful place: Our Father is in heaven and has made us citizens of his Kingdom, where his will is done.
This is especially true for those who have been baptized. As the Second Reading puts it "Whoever is in Christ is a new creation; the old things have passed away; behold, new things have come."
When we sin, we are like the prodigal son, violating our father, taking what he has given us and squandering it in the worst way.
"Father, give me the share of your estate that should come to me," we say, then use the gifts we have as his sons for ourselves alone.
Then comes humiliation — and the loss of our daily bread.
When we live with the father, doing his will as it is in heaven, we say "Give us this day our daily bread," and trust that God will provide for us, in his ways.
When we abandon him, and no longer do his will as it is in heaven, we find that the world is not nearly as generous.
Things get so bad for the Prodigal Son that he has to take  a job tending to pigs — a humiliation for a Jew. Worse, "he longed to eat his fill of the pods on which the swine fed, but nobody gave him any."
Sin starts out promising freedom and excitement. It ends in humiliation. The Prodigal Son starts out with money and prostitutes, fulfilling his fantasies; he ends living with pigs, fantasizing about eating their food.
We are, in fact, worse than the Prodigal Son. We, too, received our inheritance early: The inheritance we have in Jesus Christ. "For our sake he made him to be sin who did not know sin," says the Second Reading. And, as St. Francis said to Christians, "it is you who have crucified him and crucify him still, when you delight in your vices and sins."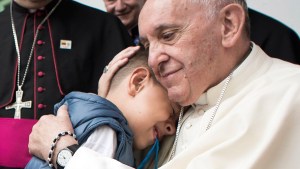 Read more:
The word Abba is like a recording of Jesus' voice, says pope
That's why, like the Prodigal Son, we need to repent.
We finally do it. We face our Father and say, "Forgive us our trespasses."
The young man in the parable isn't just sorry for his sins. He didn't just decide to stop living a sinful life. He travels back to his father where he confesses his sins and acknowledges that they had cut him off from all he had known.
For many sins, we have to do the same thing. We have to take a journey. We have to go to confession.
Next is the Father's welcome.
Our Father doesn't just forgive us when he hears us, though; he restores us to our full status in his family.
In the story, he gives his son a beautiful robe, a ring, and a festive banquet. These are symbols of the new life we receive at Baptism — "pure, worthy, and joyful" as the Catechism says.
The Second Reading describes this life. After he "has reconciled us to himself through Christ" he makes us "ambassadors for Christ, as if God were appealing through us."
He makes us fully his own: He makes us his representatives in the world.
That's where a new danger comes in, however.
The Our Father isn't said most often by prodigals; it is said by religious people. The Gospel of Luke tells us that the Prodigal Son story is addressed to the Pharisees and Scribes, not the tax collectors and prostitutes. They have to learn that we will be forgiven only "as we forgive those who have trespassed against us."
More than a third of the story is taken up by the reaction of the older brother. His attitude is not at all the attitude of a son happy in the love of his father. He doesn't tell his father he loves him; he only says "not once did I disobey your orders." He doesn't want to feast with his father. He says "You never gave me even a young goat to feast on with my friends."
The Father tells the older brother just how blessed he is. "You are here with me always; everything I have is yours." He is like the Israelites in the first reading. They have arrived. They are in the promised land.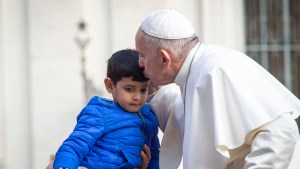 Read more:
Why Christians don't believe in fate: Pope explains
The older brother should pray the Our Father with the same fervor as the Prodigal Son.
… and so should we. Pray that we won't fall into the temptation of either of them – the temptation to loose living, or the temptation to being "holier than thou."
Instead, pray the Our Father with gratitude for what we have been given — something we must never give away.
Read more:
Pope asks: What is the word missing from the Our Father?