We can learn a lot from our kids -- namely, that it's time to get more serous about playing.
You can get Aleteia inspiration and news in your inbox. Our specially curated newsletter is sent each morning. The best part? It's free.
Sign up here
When I was a child, I never "played church." I didn't have much in the way of imaginative raw materials because the church we attended was a large, plain converted warehouse and the service was half an hour of music followed by a lengthy sermon. The pastor wore regular clothes and everything was as much like everyday life as possible.
But since I've become Catholic and a dad, it's been fascinating to watch my kids go a different way than I did. They regularly pretend and play Mass at home, which seems to be fairly common with Catholic children. We now have a toy Mass set of most of the objects they need. Whatever we're missing, they create. They've made processional crosses out of sticks and demanded that their mother sew them chasubles. They've constructed elaborate Lego cathedrals with high altars and rows of pious worshipers.
Even though I have fond memories of playing make-believe as a child, that phase of life is left behind as an adult as each day regularly becomes a long to-do list. Although most education experts acknowledge the importance of the imaginative play to childhood development, it's not considered an essential part of a typical day for an adult. As I watch my children explore and imagine their way through the Mass, though, I wonder if we grown ups could learn something from them. What is it about Mass that makes it so different than my own childhood experience of church? Could we gain something from engaging in Mass as a form of imaginative play?
The more I've pondered it, the more I've begun to understand the value of imaginative play, not only for children, but for adults.
The Mass is a whole different world from what's found outside the doors of a church. A Catholic is surrounded by artwork, stained glass, priests dressed in uniquely odd but beautiful clothing, incense, candles, and bells. Every physical sense is exercised – we see the artwork, priest, and altar servers, we hear the singing, smell the incense, taste and touch the Eucharist. The sensible appeal forms the foundation for our imaginations to begin to work.
Think about a child's play. It doesn't have any direct purpose. It doesn't create jobs, build anything useful, or create wealth. Kids do it simply because it's fun and interesting to them. Imaginative play is for its own sake, but it also points to an incredibly important fact about us — that humans are about more than mere survival. We're here to laugh and love, to seek beauty and goodness, to hope and dream. There is something about the human soul that is more. The theologian Romano Guardini writes, "This is what play means; it is life, pouring itself forth without an aim, seizing upon riches from its own abundant store, significant through the fact of its existence."
Imaginative play makes us aware of our better nature, of a rich, inner life. When children play, studies show that they become better at thinking up and entertaining different possibilities and imagining all sorts of unrealized hopes. The Mass is how all of us, adults and children alike, consider the greatest of all possibilities, that God is real and we are created for a reason.
If God the Father can relate to his children through play, then I, too, can relate to my children through play. With them I have intentionally entered into a second childhood. We play games, pretend, go to Mass, and dream about the future. I've come to understand that this is not wasted time, and I don't always need to be teaching them a lesson or preparing them for an efficient, practical adulthood. Instead, we can seek out the hidden treasures buried in the fabric of the universe that makes life so special. We live in this world, but we're also meant to transcend it. As we pray and play at Mass, we become better parents. It's time for adults to get more serious about playing.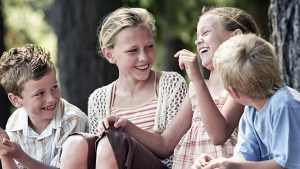 Read more:
Why homeschooling is great for socialization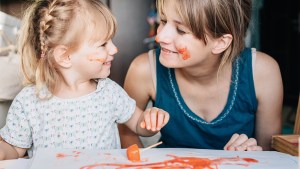 Read more:
Do you find it boring to play with your kids? Here's how to remedy that