We want them to become independent adults, but ... we still miss their childhood!
You will teach them to fly, but they will not fly your flight.You will teach them to dream, but they will not dream your dream.You will teach them to live, but they will not live your life.Nevertheless, in every flight, in every life, in every dream,the print of the way you taught will always remain. – Mother Teresa of Calcutta
Seeing your children grow is bittersweet. How hard it is for me to see my children leave their childhood behind! It fills me with nostalgia.
I remember as if it were yesterday what it was like when it was their bedtime, and they'd say to me, "Mommy, will you put me to sleep? Can you stay with me a while until I fall asleep?"
They used to ask me that question for years.
From the distance, I always heard their father's voice saying, "What do you mean, 'put me to sleep'? You're already big enough to go to sleep on your own." Invariably, my answer was, "Let me enjoy these moments when they still want me to be with them. The day will come when they'll throw me out of their bedroom!"
And that's what happened. For years, my husband and I took turns at night to be with each one of our children, until one day, they stopped "needing us." Practically without our realizing it, our children grew up.
Of course, as parents, we all educate our children with the goal of getting them ready to live life on their own. Precisely in order for that to happen, the day must come when they say to us, "Mom, Dad, I love you, but I don't need you around all the time anymore, because you prepared me to live without you, to fly on my own. I'm a grown-up now."
They grew up, and we realized that the unconditional love and the time we gave them were the main ingredients for them to grow their own strong wings that now allow them to fly off in search of their own mission in life. At the same time, those ingredients were also the solid roots that will help them live their lives rooted in what really is of value: family. This is also what will show them the path back home when they need it. Before, we parents were all the world to them; now, they are creating their own world, and it's their right to live in it.
This is why I speak of this bittersweet feeling in my soul. I smile with gratitude to God when I see the adults my children are becoming: good men and women who are always trying to do the right thing. However, there's no denying that I also feel some — more than a little — nostalgia, longing, and sadness. I definitely miss their childhood!
However, there's no point in metaphorically parking my life on the corner of Melancholy Street and Nostalgia Avenue, just because I miss those little boys and girls. Sure, it's good to remember those years, but we should remember in order to be thankful, to look back with joy, remembering all those adventures, events, and apparent disasters to which, at the moment, we gave too much importance. We can look back on the time when the toys were left all over the place, and the house was full of chaos that never seemed to end; the nights when we didn't get any sleep, when our children ran to our bed because they were afraid. We can remember the little voices shouting every 5 minutes, "Mommy, Mommy, Mommy …." and Mommy, at the end of her rope, saying, "Stop calling me Mommy! That's not my name!"
Would I like my children to be small again? Of course; it would be a lie to say otherwise. Maybe I would like that because I want to fix what I didn't do right, to do things better … How much time I lost in absurd things! How often did I lose my temper pointlessly! And also, there are so, so many marvelous memories that I would love to be able to freeze in time.
Our babies aren't babies anymore; they grew up in a blink of an eye. At the end of the day, for us parents, our sons and daughters never cease to be children in our hearts. They will always be our babies. It's okay to miss that, so long as we don't get lost there.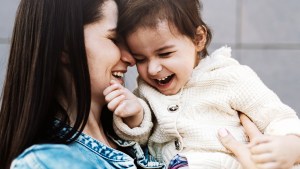 Read more:
If you want your kids to grow up to be good people, focus on this
Read more:
"Mom, it's time for me to leave"