It's not the first time he's stepped in to help his Church.
It wouldn't be the first time that Novak Djokovic has saved a chapel. The tennis player, formerly ranked #1 in the world, has said he is ready to financially help the French Orthodox chapel of the Dormition in Nice, France. The chapel is located in the historic quarter of Nice, a city on the eastern end of the French Riviera. It houses frescoes by Eugraph Kovalevsky, the first bishop of the Catholic Orthodox Church of France. The Serbian community has long used this chapel as its place of prayer, but its access to the chapel has been threatened since the death, two years ago, of the owner of the building that houses it. His heirs want to dislodge tenants to sell the premises.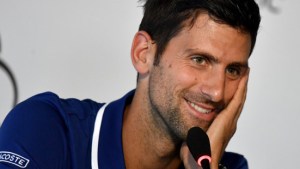 Read more:
Wimbledon champion Novak Djokovic: "Before I am an athlete, I am an Orthodox Christian"
Novak Djokovic, of Serbian nationality, lives 12 miles from this picturesque French city, and decided not to let this twist of fate bring to a close the beautiful history of this chapel. Last December, the tennis player posted on his Instagram account a photo where he's seen with his son, lighting a candle in the chapel on the occasion of a community celebration. When the courts became involved in order to expel the Orthodox association, Djokovic's public relations team told French daily paper Figaro that "he is planning on helping" the chapel, "probably with a monetary gift."
An athlete and follower of Christ
Novak Djokovic has managed to use his fame to help his community. Deeply Orthodox, he received the first degree of the Order of St. Sava from the patriarch of the Serbian Orthodox Church, Irenaeus, as an award for contributing financially to the renovation of a monastery in Kosovo. After winning the Indian Wells Masters tournament and pocketing a check for $600,000, the Serb offered €100,000 to the Serbian monastery of Gracanica, a magnificent building from the 14th century. His donation allowed the monastery to buy a neighboring parcel of land.
Earlier, in the native village of his father, in Montenegro, the tennis champion had already built a chapel. He's also known for financially supporting the Monastery of the Holy Archangels and of Hilandar on Mount Athos. He has made these cultural donations in addition to his "Novak" foundation, which helps disadvantaged children in Serbia.