The footballer and devout Catholic shares his secret to a successful career and family life.
Los Angeles Chargers quarterback Philip Rivers and his wife Tiffany recently welcomed their ninth child into the family. The sweet announcement came from Rivers' team last Tuesday, who posted on Twitter the iconic clip from The Lion King where Simba the cub is raised into the air in front of all the other animals, with a simple message: "SHE'S HERE, welcome to the world Anna Rivers."
SHE'S HERE.

Welcome to the world, Anna Rivers 👶 https://t.co/oafdNNI6lI

— Los Angeles Chargers (@chargers) March 26, 2019
The high school sweethearts who married back in 2001 now have seven daughters and two sons: Halle, 16; Caroline, 13; Grace, 12; Gunner, 10; Sarah, 8; Peter, 7; Rebecca, 5; Clare, 3, and newborn Anna. While the pro-player makes a 90-mile commute each day from his home in San Diego to his team in Los Angeles, he still makes sure he has plenty of time for his family.
In fact, an interview with the family that is available on the club's website, Chargers.com, gives a little insight as to how the devout Catholic manages to prioritize his family while being a star on the field. His eldest child Halle shares: "He's so selfless. He's an NFL quarterback; he's doing a million different things every day, but every day he comes home, and he wants to be with us. If he has one extra minute that he could do something else, he'll be with us."
His son Gunner echoes this sentiment: "Whenever he's home, he plays with us and he's with us all the time … we like to throw the football in the yard. We like to putt on the putting green, watch football and do things like that." Philips himself explains that mealtimes are paramount in maintaining a healthy family life, with mid-week meals an absolute must — other days are trickier with his playing schedule.
To you, he's QB1. To them, he's just dad.

Philip Rivers through the eyes of his children » https://t.co/5z8KzfWGphpic.twitter.com/FfX65EqBIX

— Los Angeles Chargers (@chargers) December 4, 2018
After 18 years of marriage, Rivers' wife Tiffany still seems to be his number one fan, admiring his approach to family life and the way he always puts others first. If you read the whole interview you'll see how the successful quarterback has nothing but praise for his wife, putting the success of their marriage and his career down to the fact that they're best friends and that she is a huge source of support in all areas of his life.
At 37 years old — the upper range for football players — Philip Rivers will not be playing in the NFL for many more seasons, but it's seems likely that he'll continue to be a great role model for his children and fans alike for years to come.
Read more:
9 Celebrities inspired by their large families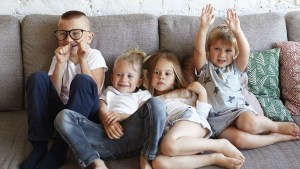 Read more:
6 Tell-tale signs you're from a large family