What this season of sacrifice tells us about the mystery of suffering.
How can you see all this and still believe?
That was yelled at me by an elderly woman. We were in a hospital room. She had buried her husband the week before. Now she was watching her sobbing daughter, draped over the body of her just-deceased husband, while the dead man's little son stood shaking in the corner.
How can you see all this and still believe?
I asked myself that question because of a very sad story I had been following, through friends, for the past several weeks. (I'm changing their names because I haven't been able to ask for permission to identify them properly—I hope that permission will be forthcoming.) I knew Eddie and Carol—not well—back in my teaching days. They were a dear couple, and no one was surprised when they married shortly after graduation. By all accounts, they were very happy and very faithful. Several children soon followed.
Eddie was diagnosed with a terrible lung disease; Carol was diagnosed with a blood disorder. All their friends and loved ones were horrified and prayed earnestly. Eddie took a very bad turn and was hospitalized. Carol couldn't go to the hospital to see him because she couldn't afford to catch anything in the hospital—she's scheduled for a bone marrow transplant on Good Friday.
Eddie was put on life support. People prayed that he would rally so that he could be put on a waiting list for a lung transplant. Eddie never woke up. He died, his hospital bed surrounded with praying family and friends. He left behind Carol—with health challenges of her own to face—and young kids. He died knowing that so many had prayed earnestly for his recovery.
How can you see all this and still believe?
It's an ancient question: How could a good God let this happen? Did Eddie and Carol do something horribly wrong to deserve this? And even if they did—what about their innocent children?
These mysteries of suffering, loss, and innocence are treated so eloquently in the Book of Job. We hear it again in the Gospel of Luke:
At that very time there were some present who told him about the Galileans whose blood Pilate had mingled with their sacrifices.

He asked them, "Do you think that because these Galileans suffered in this way they were worse sinners than all other Galileans?" 

No, I tell you; but unless you repent, you will all perish as they did. Or those eighteen who were killed when the tower of Siloam fell on them—do you think that they were worse offenders than all the others living in Jerusalem?

No, I tell you; but unless you repent, you will all perish just as they did.
It's natural at such times to wonder about who is to blame, or whether God is faithful, or to ask ourselves, "Who's next? Will it be me?" It's natural—but it's not entirely Christian.
And I don't believe that a purely natural approach would be how Eddie and Carol would want their story remembered. One of Eddie's closest friends wrote the following: "The best part is that this is NOT a tragedy. Rather, a meek, simple love story of two good and faithful servants. Last night I promised … I will make sure everyone knows that … I will miss my friend."
How could this story not be a tragedy? I think that Eddie and Carol would insist that their story, as heartbreaking and painful as it is, must be remembered as a story of love sustained and love triumphant. They knew Christ before they pledged their lives to each other in marriage. They gave themselves to Christ again and again in their marriage. They entrusted themselves to Christ in their illnesses and Eddie's dying. They knew that death cannot defeat love. (Song of Songs 8:6) They knew that Jesus "loved his own unto the end." (John 13:1) Like Our Lady of Sorrows, they knew that their mourning would not last forever.
Read more:
Finding Mary at the foot of our own crosses
We are halfway through Lent. We are walking with Our Lord along the Way of the Cross, in the promise of Easter and the Hope of the Resurrection. Even now, there are people mourning, sitting at hospital beds, in funeral homes, and at gravesides, asking of us, "How can you see all this and still believe?"
We will know whether we have lived a good and fruitful Lent, if, by Easter, we have come to know Christ so well, that we can have an answer for those who are in pain, for those who are mourning, for those who are losing their grip on hope. Please, let's cling to Christ during Lent, so that we can offer Christ to those in need.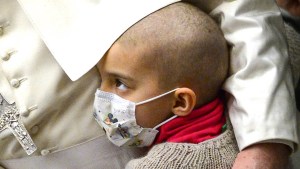 Read more:
Why do the innocent suffer? Pope Francis gives this answer
When I write next, I will continue with our series of Lenten reflections. Until then, let's keep each other in prayer.
Read more:
Pope Francis To Typhoon Victims: "Christ Responds With His Heart From The Cross"