Her goal is to leverage social media to get 100 million people praying.
The next time you find yourself bemoaning the perils of social media, consider this silver lining: For six months now, every morning at 6:45 a.m. Central, 200 people have been praying the Rosary together live on Instagram, via the account @manyhailmarysatatime.
Each day, a different guest is invited to help offer the prayer, broadening the community this practice reaches. Many participants post prayer intentions that receive replies in the form of emoji hearts and prayer hands. And in the course of the rest of the day, another 1,500 to 2,000 people or so tune in to pray in their own time.
I asked Kristin, leader of this prayer effort and a mother of seven, business executive, and blogger at One Hail Mary at a Time, about how this practice came to be and where she sees it heading in the future.
How have you experienced the power of the Rosary prayer in your life?
We started praying the Rosary together as a family seven years ago, and it has brought tremendous peace and optimism. We went through some stressful periods and we knew that Our Lady would also take care of us — and she did. There were times when we couldn't pay our mortgage or we didn't know how we would get through a day, and she always carried us through.  
What does the Rosary mean to you and why?
The Rosary is like a ladder to heaven on earth. After you pray it you see God in everything. It's also a bonding ritual that brings forth authenticity and community. It also allows me to surrender all worries.  
How has your life changed since you started your daily recitation of the Rosary on Instagram?
My days are full of peace and they flow much more evenly. When I don't pray the Rosary first thing in the morning I notice I'm much more tense and full of anxiety. Also the community on Instagram that prays with us every day has been another blessing. Everyone loves and supports each other through the Rosary prayer.  
You've taken a unique approach to social media. Where do you see the future of social media headed?
I selfishly wanted to start my day in prayer with the Rosary, but on my own I was really struggling and often I wouldn't pray it or my mind would wander aimlessly. We had already launched 50+ different virtual Rosary groups and I knew the live video helped others there, but I had never done a live Rosary on Instagram. 
I felt the nudge of the Holy Spirit during the month of the Rosary, October, and decided on October 11 to give it a try. Since then it has grown to 200 people praying live together from all over the world. And every day there are 1,500 to 2,000 people who watch the live Rosary that day. My mission is to encourage the Rosary prayer and the goal is to get 100 million people praying it, and I plan to leverage social media to honor Our Lady and her great gift to us, the Rosary.  
There's no doubt that there are certain dangers inherent in social media. It can usurp our time and cause needless comparison and feelings of inadequacy. But when the social aspect is utilized as a means of building community and lifting voices together in praise and petition, it can be a truly beautiful thing.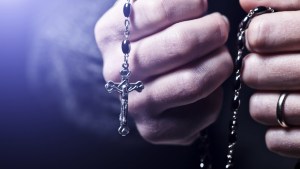 Read more:
Nervous or struggling? Pray a mystery of the Rosary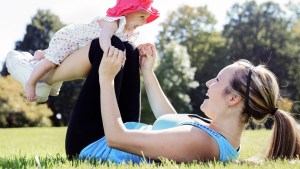 Read more:
How to work out when you're a working mom