He was a fiery preacher and a diligent friar. And wherever he went, the sick and the dying were healed.
Today is the 600th anniversary of the death of the Dominican friar St. Vincent Ferrer, and his feast day. He is a lesser-known Dominican saint — well, at least he was unknown to me until I entered the Dominican Order. Throughout the universal Church other figures like Thomas Aquinas, Albert the Great, Catherine of Siena, and Martin de Porres are undoubtedly more familiar.
So who was this man?
He's called the thaumaturgus. The Greek word thaumaturgus (θαυματουργός) means miracle-worker. St. Vincent Ferrer often appears among saints like Jude the Apostle, Philomena, and Rita of Cascia. These great saints are known as intercessors for difficult cases, true wonder-workers.
But just how many miracles did Vincent Ferrer work in his own lifetime? The Acta Sanctorum, a 17th-century encyclopedic text researched by a team of Jesuits, records 873 miracles. These same Jesuit scholars say he delivered 70 people from demonic possession. In another place St. Antoninus (the Dominican archbishop of Florence) claims he raised 28 people from the dead.
Whatever the actual number of miracles is, wherever Vincent Ferrer went, the sick and dying came to him and were healed.
St. Vincent Ferrer himself was even a recipient of a marvelous cure. Weak from his extreme penances and exhausted from his ministry of preaching, he awaited death on October 3, 1398. That day Sts. Dominic and Francis appeared to him. They knelt and prayed at his bedside. Then the Lord Jesus appeared, and—as if in a moment right from the Gospels—he stretched out his hand and touched St. Vincent. At the touch of the Divine Hand, St. Vincent Ferrer's health was restored, and having received a divine mission, he went forth to preach.
Papal theologian
Vincent Ferrer lived for a time at the Papal Court in Avignon. In a remarkable twist of Divine Providence, Cardinal Peter de Luna—who ordained Vincent Ferrer a priest—had become antipope Benedict XIII.
That time was marked by crumbling Christian Empires; both the Eastern and Western Empires were failing. Italy, Spain, France, and England were all in political turmoil. Even the Church was torn apart. "And over all this putrefying chaos, putridity of flesh covering putridity of soul, there were two popes, neither of them certain and at grips with each other, to steer the bark of Peter. Where then was the world going? To annihilation" (Henri Gheon, The Life of St. Vincent Ferrer).
With the clarity of an angel, Vincent Ferrer saw the disease of sin that was consuming souls. And he bellowed against it.
Having supported the antipope Benedict XIII for many years, trying to gently persuade him to abdicate, Vincent Ferrer eventually was forced to conclude Benedict did not have a legitimate claim to the papacy. Mounting the pulpit during the Council of Perpignan, Vincent Ferrer denounced the antipope. Eventually the Western Schism would be concluded in Constance (without the saint's presence), with the election of Pope Martin V.
Prophet of doom
In art, St. Vincent Ferrer is often depicted with angels' wings, holding a trumpet. He was a fiery preacher, one demanding penance and fidelity to the Gospel. He spent much of his life as an itinerant preacher: travelling from town to town, evangelizing and hearing confessions.
Vincent Ferrer reminded his hearers of the angels in the book of revelation, who, armed with trumpets, awaken the men of earth to repent (Rev. 8-10). With predictions of the Day of Judgment at hand, he struck fear into the hearts of men.
And yet, the Day of the Lord, the Day of Judgment, did not come in St. Vincent Ferrer's time. Does that mean this great saint was a deluded fanatic? Was he wrong about impending doom?
One way to answer this question is to consider that in the Scriptures, we are all warned, "Now is the judgment of this world, now shall the ruler of this world be cast out" (John 12:31). Every person will stand before the judgment seat of God, having to face every sin they've committed.
Another possibility: It could be that God had Vincent Ferrer play the role of intercessor, like Abraham or Jonah of old. Perhaps because of his preaching and the repentance of the people, God stayed His hand.
Dominic's ideal
Vincent Ferrer followed largely the same routine throughout his entire life. Having joined the Order at age 18 in his hometown of Valencia (in Spain), he was faithful to the demands of religious life. He was a diligent theologian and dedicated contemplative. Known for his love of singing the Mass everyday, undertaking rigorous penances, and showing a solicitous nature for all who were in need, he seemed very much another St. Dominic. He served as prior in Valencia, an office which itself manifests the esteem of his Dominican brothers.
Centuries have passed since his life and death, and many faithful still entrust themselves to St. Vincent Ferrer's powerful intercession. May none of us fail to entrust our greatest needs to his care! St. Vincent Ferrer, pray for us!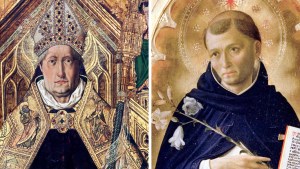 Read more:
The fascinating story of two St. Dominics and a faith-filled mom