Brother Lawrence offers his suggestion on how to combat distraction during prayer.
We live in a world full of distractions, so it is not surprising that when we sit down to pray, our minds tend to wander. Even if our culture today exacerbates the tendency, it is not something new. Christians for centuries have always struggled with wandering thoughts during prayer.
Brother Lawrence, a Carmelite monk of the 17th century, advises an individual in one of his letters concerning this common obstacle.
You tell me nothing new: You are not the only one that is troubled with wandering thoughts. Our mind is extremely roving … One way to re-collect the mind easily in the time of prayer, and preserve it more in tranquility, is not to let it wander too far at other times: you should keep it strictly in the presence of God; and being accustomed to think of Him often, you will find it easy to keep your mind calm in the time of prayer, or at least to recall it from its wanderings.
The key for Brother Lawrence is to think often of God throughout the day in whatever occupation you find yourself. Whether it is washing the dishes, sitting at a desk, or shopping for groceries, Brother Lawrence firmly believes you should keep yourself cognizant that you are in the presence of God.
This consists of recognizing God's presence around you, recalling that he is the creator of the universe and is always all around us. Try as hard as we can, we can never run away from God, as he is everywhere.
Brother Lawrence believes that if you recognize God's presence with you outside of normal times of prayer, it will be easier to stay focused when you do dedicate a few minutes to prayer.
While this won't be an overnight "fix," and is itself a challenge, this remedy can bring lasting results that will bear much fruit in Heaven.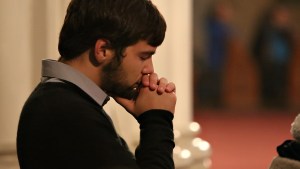 Read more:
How to place yourself in the presence of God, according to St. Francis de Sales
Read more:
Try this simple (but not easy) exercise to maintain a peaceful state of mind