Raise your heart to God in recognition of his love for you.
Depending on your circumstances, you may walk or drive past a crucifix on a daily basis. For some of us it can become such a routine that we no longer recognize what we are seeing.
Yet, when we step back and consider what the crucifix is and what it represents, our hearts should be in awe.
One way to foster this realization is to say a prayer every time you see a crucifix. It doesn't have to be long and most of the time it can be a spontaneous prayer from the heart.
Below is one such example that highlights the immense love Jesus had for all of us, but most importantly, for you in particular. Jesus died on the cross for you, personally, something that we don't always remember. This reality should make our hearts leap for joy and desire to love God in return for such a wondrous gift.
The next time you see a crucifix, try saying a short prayer, acknowledging the great love God has for you.
To what excess, O my Savior, have you loved me?O Jesus crucified for my salvation, save me!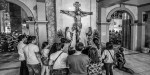 Read more:
This prayer before a crucifix reminds us of our role in the crucifixion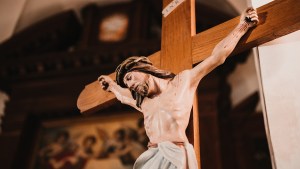 Read more:
Why do Catholics use crucifixes that show Jesus on the cross?