Many homeschooling parents say they feel inadequate and overwhelmed, but here are a few things to consider.
Neither my wife nor I have the qualifications to be teachers. I know very little about pedagogical techniques, managing a classroom, or what requirements exist for standardized testing. When it comes to specific subjects, sure, I know a lot about philosophy, theology, and literature — but I'm terrible at math, science, languages. When I talk to friends who are professional teachers, I'm in awe of their talent and dedication. Schools also have a ton of resources to ensure every subject is covered adequately. As a homeschool parent with our little one-room schoolhouse, it's hard not to compare and feel anxious. Can a parent who's not trained as a teacher do a good job educating his child?
Many homeschool parents report feelings of inadequacy. When I asked around my own circles, parents all had the same response. One mom said, "I always feel like we're behind … I feel overwhelmed and inadequate." Another mom said she is, "overwhelmed about almost everything when it comes to questioning whether I'm giving my kids what they need when they need it." And another said, "As far as feeling overwhelmed, well, that never stops."
Each homeschooler seems to use the same word – overwhelmed.
It's important to identify the true source of that feeling. And it's right there in the question I asked above about whether I can do as good a job as a professional teacher. The source of our stress lies in comparing ourselves. Teachers are professionals — they have experience, lesson plans, resources, and well-structured calendars. Even other homeschooling families may seem academically way ahead of where your children are, so it's hard not to make comparisons. Maybe you feel like you're not doing such a good job teaching your kids, and if so, you are definitely not alone. But here's the thing —  all those parents who feel inadequate also have tremendous stories of success. We're all doing much better than we think and it's time to stop worrying so much. To do that, keep these things in mind …
Your kids are probably doing well academically.
The National Home Education Research Institute, points out, "Homeschool students score above average on achievement tests regardless of their parents' level of formal education or their family's household income." In other words, even if you're not a professional teacher and don't have tons of money to invest in education, chances are that your child is being educated to an above-average level.
Sometimes homeschoolers don't notice this because they aren't basing their education on test-taking. For instance, a homeschool mom I know said, "I took my oldest to take a standardized test before she was to go to high school. I was nervous because she needed to do well to get into her proper grade. When the results came back in every subject it said PHS. We had to look "PHS" up. Turns out it meant 'post high school.' Whew."
I've heard other homeschoolers explain how, even when they actually were behind on a subject, once they realized it, it was easy to catch up.
Comparisons are never fair.
One of the wonderful things about homeschooling is that it allows flexibility. Each child is different, so it shouldn't be surprising that the curriculum and progress of each child is different. What this means, though, is that making comparisons is impossible. If we can let our kids develop and be who they are as individuals and help them find a passion for learning, their education will be a success. I wouldn't recommend this as a major part of your curriculum, but here's a guy who talks about how even playing with Lego helps kids to learn.
Parents are the best teachers.
Nothing against professional educators — like I said, they're amazing — but no matter how much training they have, they can never connect with a child the way a parent can. Parents are the primary educators of their children and the formation children receive in a homeschool setting goes well beyond academics. Their education addresses character, spirituality, independence, and the joy of growing up within a strong, close-knit family.
"Education is the kindling of a flame," says Socrates, "not the filling of a vessel." The best educators are those who can help light that fire, who can help them discover wisdom through a sense of wonder. This is the kind of education that promotes not only knowledge and job skills, but also meaning and happiness. This is the kind of education that a homeschooling parent is uniquely qualified to provide.
So even if you feel constantly behind or inadequate, don't be discouraged. Accurately evaluate how the kids are doing academically, stop making unhelpful comparisons, find support, and be reminded that as a parent, you're the best educator your child could possibly have.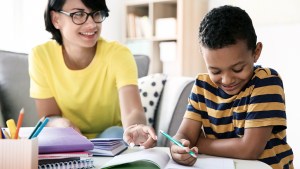 Read more:
Why I homeschool badly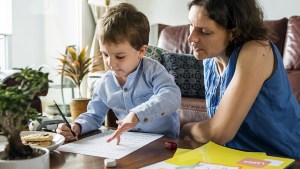 Read more:
Why homeschooling is fast becoming the modern way to educate your kids