It might take them a little longer, but young children are absolutely capable of all this -- and more!
For the first time in my 14 years of motherhood, my 3-year-old has been in childcare during the week days. It's necessary now because I work full time. Although I miss the long hours of one-on-one time that I had with my older kids, I've been pleasantly surprised to see my toddler becoming more independent at a far quicker rate than my other children did.
Granted, much of that independence is due to the amazing lady who provides in-home day care for Isaac and a handful of other 3- and 4-year-olds. She's been doing it for years, so she has the care and raising of toddlers down to a science — and one crucial element of that science is giving toddlers age-appropriate chores. Chores that I, for one, would never have dreamed a toddler would be capable of — and  yet, I've watched in awe as my toddler has proved not only capable of these chores, but better at some of them than my older children.
I wish I'd known that was possible when my other kids were toddlers, so I've made a list of the top five most impressive chores my 3-year-old excels at.
#1 Putting his shoes and jacket away when he walks in the door
My toddler is the only child in our house who's mastered this one … and in the spirit of honesty, he's much more consistent about it than most of the adults as well. This is a direct result of the clear expectations set for him during the day, and the toddler-accessible shoe rack and coat drawer near the door. He takes a great deal of pride in unzipping his own coat and putting it in his own drawer — so much so that we had to give him a special place to put his coat at home since he couldn't reach the coat rack we use.
#2 Pulling weeds
Last weekend, we had a family yard-cleaning afternoon. As I was bent over pulling weeds from the flowerbeds, Isaac asked to help. I explained what I was doing and showed him what to pull and how to grasp the weed near the root. He picked it up quickly, pulling weeds twice as fast as my other kids … and because he's so close to the ground already, he was able to do it for much longer than the rest of us! Weeding is the perfect chore for pint-sized people.
#3 Cleaning windows
There's something magical about transforming a smudged window into a sparkling clear one, and toddlers are not immune to that appeal. Although they tend to use more paper towels than most, they're also wildly enthusiastic about getting every last smudge … and again, they're the perfect height for those windows that are too low for most of us to clean comfortably.
#4Cleaning up spills
To be fair, all of my toddlers have been expected to help clean up spills. But with my other four, this help has been less thorough than perfunctory. However, Isaac is the opposite … and I've discovered that all toddlers are much the same. The real key here is that parents need to have enough patience to let their toddler clean the entire spill, since they do move more slowly and less efficiently. They'll get it all cleaned up in the end. It just might take a while!
#5 Clearing the table
Isaac absolutely loves taking his plate and cup to the sink when he's finished eating. This is not a chore I would have dreamed of letting a toddler do in years past, primarily out of fear of spillage and breakage. But since he can clean up those spills. I decided to let him try. And lo and behold, it's his favorite part of the meal!
One thing you can do to increase the appeal of clearing the table is to put a stepstool next to the sink, and help your toddler climb up and deposit the dishes in the sink him or herself. If you're really brave, you can even help your toddler rinse the dishes and put them in the dishwasher. It might take a little more time than usual, but it's an investment well worth making to have a child who cleans up happily after meals.
The truth is, toddlers want to help with everything. It's part of their God-given nature to be curious about the world around them, and to want to learn more about it by experience. I know that the toddler years can be chaotic and stressful (especially if you have older kids), but it's worth taking the time to slow down and let your child have these experiences. It's amazing how much they are capable of when you take the time to let them try — and you're really doing much more than letting your child help right now, with this chore. You're actually helping to form their character from a young age by showing them that families work together and help each other … and that is more than worth the 10 minutes you'd save cleaning up that spill yourself.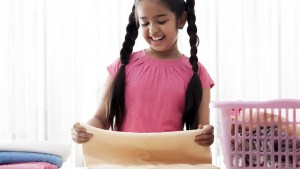 Read more:
Mexican parents have a secret to getting kids excited about chores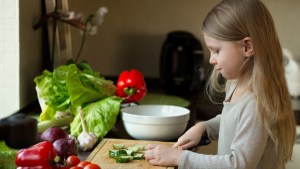 Read more:
Why I let my toddler use a sharp knife