At the hospital where she works, Liz Smith met a fragile little girl, and nothing has been the same since.
Liz Smith was in her early forties when she came to the realization that she would probably never have a biological child. Having dismissed the idea of fostering or adopting for various reasons, it seemed that the nurse from Massachusetts would never be a mom. But God had other plans for her.
One day, two years ago, Smith was on her way in to work at the Franciscan Children's Hospital — where she is the director of nursing — when she caught sight of a baby with glorious blue eyes. The little girl, Gisele, had been in the care of the hospital for five months, after being transferred from another hospital when she was three months old. Over the past five months, Gisele had not received a single visitor. Thankfully, after that one chance meeting, Gisele's life would change forever.
Gisele was born prematurely in July 2016, weighing less than two pounds. She was suffering from neonatal abstinence syndrome, a direct impact of her birth mother's heroin, methadone, and cocaine habit during pregnancy. This left her with fragile lungs and the need of a feeding tube, which would delay her developmental progress. This didn't deter Smith one bit, though. She decided that night that she would love and care for Gisele, and would eventually become her foster mom when she was well enough to leave the hospital.
"I felt that I needed to love this child and keep her safe," Smith shared with the Washington Post. Handing in her application to foster Gisele, the nurse spent every evening chatting to the baby. Gisele was obviously receptive to these visits and progressed enough to be able to leave the hospital in Smith's care, just one month later.
While the foster mom felt daunted by this change in her life, she was very much supported by her friends and family. She only had permission to foster Gisele on the condition that she make every attempt to reunite the baby with her birth parents, Smith still went ahead with her decision to foster, inspired by her own mom's attitude to life. (Sadly, Smith had lost her mom to liver cancer while she was still a teen, but what she cherished about her selfless mom, a pediatric nurse, was her ability to "always put others first.") Smith decided to put Gisele first, knowing she might one day have to hand her back to her biological parents.
As it happens, after supervised visits from Gisele's birth parents, the state finally decided to terminate their parental rights. With no other family member around to adopt the baby, Smith was granted the right to finally welcome the blue-eyed angel officially into her family. Although Smith was very excited, the moment was a little bittersweet. "The day I got the call that their parental rights were terminated was very sad," Smith said. "My gain was another's loss. It's a feeling difficult to describe when you are experiencing this life-changing moment that someone else is as well, in the opposite way. The bottom line is: It's devastating for another family."
While Smith's compassion and empathy make this such a heartwarming story, it also gives such hope for the baby she is nurturing — perhaps she'll get to one day continue the family's desire to always put others first. And as for little Gisele, now 2 years old, although she still needs a supplementary feeding tube, she's reaching milestones, weighs 23 pounds, and is particularly fond of the song "You Are My Sunshine," which is enough to warm any mom's heart.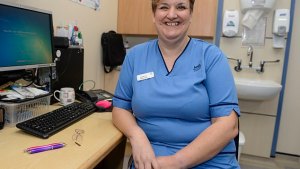 Read more:
Nurse who knows the trials of dialysis gives her kidney to a patient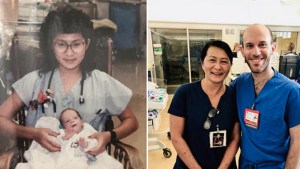 Read more:
NICU nurse reunites with preemie baby she helped after 28 years