Through hard work, sacrifice, and determination, this young teen shows he has his priorities right.
As parents we like to protect our kids from our stresses and financial woes, but sometimes they pick up on concerns we have. This was the case for single mom of three Krystal Preston, when she was in desperate need of a car to get to work and to ferry her kids to school and appointments.
Unbeknownst to Preston, her resourceful 13-year-old son, William Rabillo, took matters into his own hands. He spotted a car listed online and reached out to the owner to arrange a payment agreement: he would swap his Xbox and do household chores in return for the 1999 Chevrolet Metro.
With the deal sorted, the young teen made the announcement to his mom that he'd purchased her a car and took her to meet the previous owner and collect it. As Preston explained to USA Today, the incredibly thoughtful gesture blew her away: "I just started bawling, I lost it. Like hysterical bawling. I had no words." A pretty understandable reaction!
While this loving gesture demonstrates Rabillo's thoughtfulness, ingenuity, selflessness, and love for his mom, this hard-working attitude is apparently typical of her son, who isn't afraid to roll up his sleeves and look for chores to earn money. "A lot of time the kid could outwork me. He has so much life and spirit in him. He's just an amazing kid," said his mom.
Rabillo, who has two siblings aged 11 and 14, provides a shining example of how to make sacrifices for those in need, as well as the importance of looking out for those you love, at any age. His impressive story is also a reminder to parents of getting kids involved in chores and demonstrating to them the value of their actions.


Read more:
The bittersweet joy of seeing your children grow up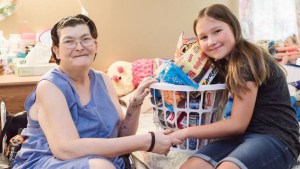 Read more:
Meet the inspirational 11-year-old granting 3 wishes to residents of a nursing home