Case expected to move quickly as French priest is already popularly hailed as a martyr.
Less than three years after the assassination of Father Jacques Hamel by Islamists, his canonization process has now moved to the Rome stage.
The files containing the results of the research into his life and death have been turned over to the Congregation for Saints' Causes by Bishop Dominique Lebrun of Rouen.
Bishop Lebrun said that turning in the files made him feel like he had fulfilled his mission.
The dossier includes the testimonies of some 60 people and an examination of several hundred of Fr. Hamel's homilies.
Though the Vatican's saints congregation has plenty of work, it is thought that Fr. Hamel's process will have priority attention, as his case has brought the attention of the faithful and Pope Francis himself.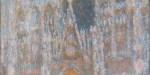 Read more:
Looking back: How Pope Francis responded to the death of Fr. Jacques Hamel


Two men stabbed Fr. Jacques Hamel to death while he was celebrating Mass on July 26, 2016. The two came into the church just after Communion had ended, shouting "Allahu Akbar!"
Hamel, 86, was assistant priest at Saint-Étienne-du-Rouvray, a working-class suburb of Rouen. He had served as a priest for 58 years and chose to continue his ministry even after his formal retirement in 2005.
Religious dialogue was important to the priest, who had served on a local interfaith committee. After his death, local imam Mohammed Karabila, the president of Normandy's regional council of Muslims, spoke publicly about their friendship and his admiration for Hamel's life of service. On the first Sunday after the murder, Muslims attended Mass in churches across France as a sign of solidarity with Catholics and respect for Hamel.
Read more:
Fr. Hamel: The pope and the young are praying for his canonization