Her parents had to install a speed bump in the living room!
Living with disability and disease as a daily reality tests the mettle of a family. It's well known that "necessity is the mother of invention," and in moments of difficulty we can find unsuspected reserves of strength and ingenuity, but there's no denying that the difficulties and fatigue of daily struggles don't go away easily.
This story of hope, love, and ingenuity comes from Canada, and is a powerful testimony to how an ordinary family's hope and resilience, when put to the test, can yield enthusiastic creativity. Instead of cursing their fate and lamenting their difficulties, they took the bull by the horns and found the way to go forward.
An unexpected diagnosis: Cancer
Brad and Kimberly Moore had taken their 4-month-old daughter Evelyn for a routine medical exam, but were told they needed to have some tests done. The resulting diagnosis caught them completely off guard. "It was stage 4 neuroblastoma, which were some pretty scary words. Now I can say them, but I couldn't at first," Kimberly told the Today Show. The tumor had attacked Evelyn's spinal cord, one lung, and her heart. Eight rounds of chemotherapy were able to eliminate the tumor, but Evelyn ended up paralyzed below the arms.
At an age when other babies happily crawl and start to learn to walk, Evelyn had lost the use of her legs. The Moores left the hospital grateful that their daughter was alive—a true blessing—but they had spent eight months with her in the hospital, which had left Kimberly suffering from depression and anxiety.
Going back home was a mixture of joy and fear. They had to figure out how to deal with this new situation, which they had never imagined would occur. When they started to get back to daily life, they discovered the need to help Evelyn to move freely on her own, so she could explore and play like other kids her age. However, the Moores ran into an additional problem: nobody makes wheelchairs for children that young.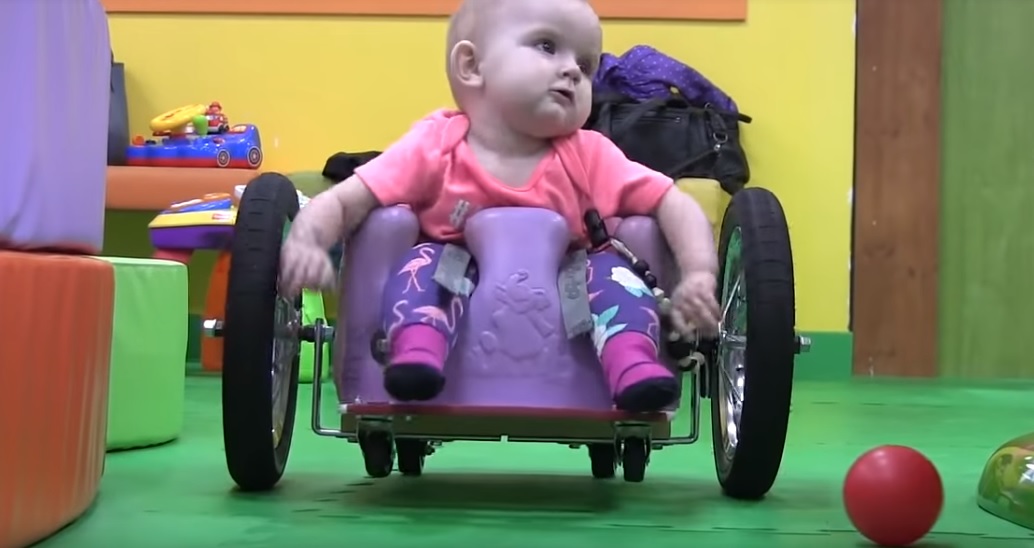 An ingenious solution
Brad and Kimberly didn't want Evelyn to drag herself around until she got old enough for a standard wheelchair. They solved the problem the DIY way, and their solution went viral: they made a custom wheelchair using mostly household items.
Their solution wasn't entirely original; Kimberly began to do research online and discovered that another dad had built a wheelchair for his son using part of a plastic high chair, bicycle wheels, two caster wheels, a kitchen cutting board, and a few other odds and ends.
"We couldn't wrap our heads around how the heck we were going to put all these things together. We just kept looking at each other. I work as an event planner, and my husband works as a tire technician. We have no experience doing projects like this, and so we even had to buy a few tools to get it done," Kimberly told the Today Show.
Despite their inexperience, within two days they had Evelyn's first "wheels" ready for her. Soon, Kimberly says, they had to install a speed bump in their living room, because their daughter had become too fearless and loved to zip around at high speeds—typical enough for her age, although on wheels, she probably managed more velocity than many of her contemporaries. A video from shows her happily pushing herself around in a room full of other children, many of them also using wheelchairs.
Although Evelyn was born in 2015 and the first video is from 2016, a  from 2018 shows her still cancer-free, undergoing therapy that doctors hope will help her growing body to repair the necessary connections for her to walk. Besides doing physical therapy exercises at a gym, her father puts her in a halter that straps onto his body and legs so she can "walk" along with her daddy. Watch it; it'll be one of the cutest things you'll see all week.
The home-made wheelchair, along with the Moores' other efforts, represents something more than a burst of creativity; it was a therapeutic way for Evelyn's parents to deal with their sorrow and suffering. It teaches us an important lesson: we human beings may be fragile and often unprepared for what life throws at us, but if we try, and if we learn from others who've been through similar difficulties, we can help solve each others' problems (sometimes with a fair amount of hard work).
It's not surprising that the Moore family's story has generated so much interest, and has inspired many other families as well. At a time when our culture is becoming keenly aware of the importance of taking care of the environment and recognizing the value of natural resources, it's not a bad time to remember that human life is also precious, and we must do everything we can to empower each and every human being to reach their potential. Sometimes, just a little creativity can help them (literally) go a long way.


Read more:
This father pushed his son's wheelchair to classes every day, and became "dad" of the entire class