Before there were 14 stations, there were the "Seven Falls of Christ."
Many Catholics are familiar with the traditional 14 Stations of the Cross that are displayed in almost every modern Catholic Church. Following the Way of the Cross by praying at each of these stations is a devotional practice that has been spread by Franciscans since the 14th century.
However, the number of stations was not fixed at 14 until the 18th century, and prior to that one popular rendition put the number at seven. The number seven is a very biblical and in the Christian tradition has always been thought as the number of "perfection." Similarly, there is the ancient devotion of the "Seven Sorrows of Mary," which focus on sorrowful events in Mary's life, such as the Passion of her son, Jesus. As a result, it's not surprising that early versions of the stations would keep the number at seven.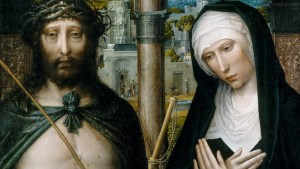 Read more:
A Marian alternative to the Stations of the Cross
In particular, this devotion was popular in Germany where, according to the Catholic Encyclopedia, "Those at Nuremburg, which were carved by Adam Krafft [in 1490], as well as some of the others, consisted of seven Stations, popularly known as 'the Seven Falls,' because in each of them Christ was represented either as actually prostrate or as sinking under the weight of His cross."
While modern stations typically only have three "falls" of Christ, these German stations depicted Christ as falling or near falling in every scene. According to Patricia Kasten, the falls that were depicted by Krafft were as follows.
Jesus falls the first time (our third station)Jesus meets his mother (our fourth station)Simon of Cyrene helps carry the cross (our fifth station)Veronica wipes the face of Jesus (our sixth station)The second fall (our seventh station)Jesus meets the women of Jerusalem (our eighth station)Jesus on the ground under the cross (our ninth station)
As one can see, each of these "falls" correspond to one of the current stations. In this way we can see how the "Seven Falls" likely influenced the later development of the Stations of the Cross that we have today.
Read more:
A short guide to praying the Chaplet of the Seven Sorrows of Mary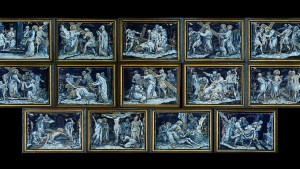 Read more:
Who invented the Stations of the Cross?