Everyday activities can teach you a whole lot about how to live well.
Over Christmas, we moved to a neighborhood in a different school district. It took a while to get my kindergartener transferred from his old school to the new school a half-mile away, and once we did I promised him that as soon as the weather was nice, I would ride bikes with him to school.
In my mind, this would be an idyllic time to bond with my child as we watched the sun rise on the quick bike ride to school. In reality, our first bike ride to school was fraught with anxiety and full to the brim of traffic near-mishaps and misunderstood instructions.
That first morning taught me a lot about what not to do — and a lot about how pleasant life (and bike rides) can be if you do the right things instead.
Boundaries keep us safe
The first morning we rode to school down one stretch of narrow road that had no sidewalks. I knew this was the case — I was fairly certain it was the safest way to school nevertheless, and told Lincoln that he should stay on my right side, near the edge of the road where the pavement meets the grass. But Lincoln is 6 and as full of exuberance as any 6-year-old boy. He attempted to ride with one hand, then no hands, then peddle fast, then stand up — all of which resulted in his bike either veering off the road into the grass and tipping over, or smashing wildly into my bike. We both left that solitary stretch of road with more than a few bumps and bruises, and a less-than-idyllic sunrise experience.
That afternoon, I biked to his school the other way — along the stretch of busy road that didn't appear to have sidewalks. I discovered that, while there was significantly more traffic, there also were sidewalks the whole way, invisible from the road. Since then, we've taken that path every morning, and I've had plenty of time to consider how the boundaries of life might sometimes seem to trap us in monotony — but the reality is, they keep us safe from danger so we can enjoy life, and sunrises.
Patience is everything
Lincoln is still figuring out his bike — not to mention his growing 6-year-old little boy body. He often tries to do things he sees his older brother do, like ride standing up … which he's capable of, normally. On the way home from school with a backpack on his back, the results are less consistent. But he keeps trying, even though I've asked, begged, and ordered him firmly not to do it.
Finally, I stopped telling him not to stand up and just rode slowly behind him and watched his progress. He stood up, pedaled fast, wobbled wildly, and fell. From the concrete, he looked up at me with an expression torn between trepidation and tears. I just smiled gently and said, "If you're going to stand up and ride, you better figure out how not to fall." The trepidation disappeared immediately, and the tears soon after — after all, this was now a challenge.
He got back on his bike and began again. This time, he stood more carefully. Pedaled more slowly. Then he got excited by success, went faster, wobbled, and … slowed down. He alternated standing and sitting at various speeds on the way home that day, and he fell again … but only once. He hasn't fallen since then, and it's made me realize how much more important it is to have patience in the face of challenge than it is to buckle under and avoid the challenge out of fear of the inconvenience of failure.
Moving makes us happy
This one is really a no-brainer for me, since I literally get people to move for a living. But it's still exciting to see it play out so clearly in my 6-year-old's life … and to learn anew that it's still true for me.
On mornings when we ride bikes to school, Lincoln gets up early, gets ready without argument, and tears out the door, eager for the ride and the day. He bolts into school like the most eager scholar in history, and his teachers report that he's calmer and more interested in the lessons on these days. The same is true when he comes home — he's happy to see me, and full of joyful reports of everything interesting that happened that day.
For myself, I've seen a connection between these early-morning rides (when I'm either tired from a 5:30 a.m. class or bleary-eyed from a late class the evening before) and a boost in energy and productivity. The mornings we ride to school, I don't hesitate to dive right into work or get my own workout done. I don't even think about taking a nap, because my blood is already moving and I'm already energized by the short but sweet cardio session. And in the afternoons, I bask in the chance to soak up some sunshine and listen to my little boy tell me all about his life while we pedal home — instead of hearing him beg to drive through Chick-fil-a or Sonic.
All these lessons are really more about life and virtue than the context would imply. So often we see rules and laws as fences holding us in, rather than sidewalks keeping us safe. And when we fail, we all tend to see that as a reason to give up and not try that thing again, rather than a call to try again, more patiently, bearing with our failures until they become successes. Most importantly, we all have times when we get stuck in a rut — spiritually, mentally, or physically. Those are usually the hardest times to start moving again, but they're also the times when moving will bring us the greatest success, and the greatest joy.
Read more:
Struggling with patience? Let this famously impatient saint help you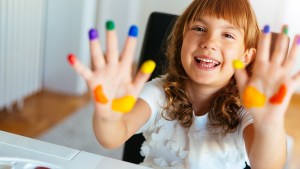 Read more:
How to keep your kids focused in a distracting world